Joined

Aug 1, 2010
Messages

333
Reaction score

0
Location
I believe it is the file "WallpaperGradientLandscapeBottomT.png" which is in the same location as the previous files. Just rename it or replace it with a blank png.

P.S. Did you convert the illumine theme to iPhone4 resolution?
Thanks, I;ll check it out.
No I didn't convert the theme. It seems it's more complicated then just doubling the number of pixels in each icon. I tried in photoshop and it just messes the image up. The dev's working on a higher resolution set now and seen as there is thousands of icons it's not something I wish to try!
I'm learning how to make my own icons now though
Anyway I've moved along a bit in the last day or so am slowly moulding my iPhone into something really quite nice (can't wait to start producing my own icons).
Here's my new home screen:
You may also notice I've changed the default badge (the image for new emails/texts etc) to a nice hi res image.
No onto the lock screen, this has taken a lot of work and myself and some of the other guys over on the MacThemes forum have been working through the code trying to pick out errors but it's a real mess and is taking quite some time. We have managed to get it into a fairly usable state and I would say it is probably 80% working.
So here it is check out this awesome lockscreen:
Lock the screen to get this:
Then wait for it to connect to the latest weather update (you don't have to of course you can just slide to unlock):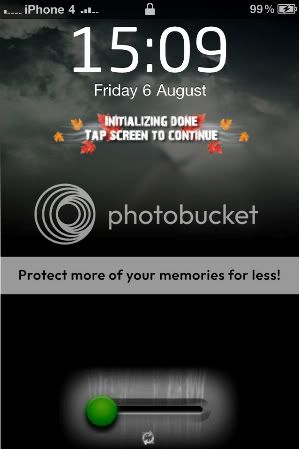 And then you'll get this:
Tap the screen to see a 6 day forecast:
And as you can see it changes at night as well:
So pretty pleased with that and it looks really nice. Still some bugs to iron out but as I said there is a few people on the case at the mo so hopefully something 100% will be with me soon. Doesn't seem to drain battery either, I only lost 4% of battery power over night.
Stay tuned for my next update lol!