Joined

Oct 4, 2011
Messages

213
Reaction score

13
Checking Contacts in iCloud - They are perfect! The Groups are perfect!
Checking Contacts on the iPad - Same as above
Checking Contacts on my iPhone 3GS - Groups have many missing records
Can anyone offer help or a solution or a suggestion to get the iPhone to be the same as iCloud?
All the records started within Outlook 2007 on the PC (Windows 7)
Since I set up iCloud there are a lot more Folders within Outlook and they don't all match anymore. Within Outlook Groups there are some folders that have missing entries but not to the degree of the iPhone.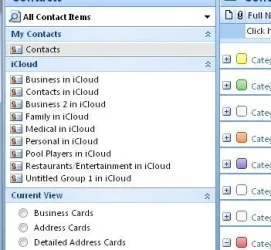 Outlook is now kind of messy. There is a Contacts folder, an iCloud Contacts folder they Group folders for each category and they DON'T match up either.
I'm thinking I should just delete everything and start over? Any thoughts on this, anyone?