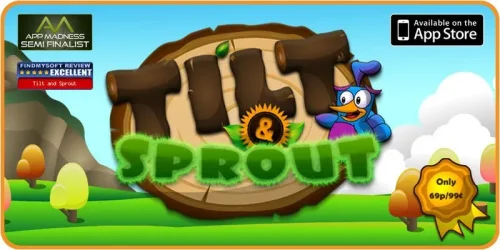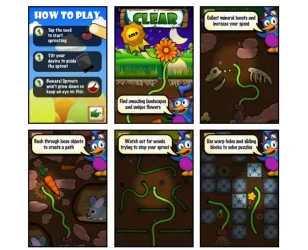 Demo video
[ame="http://www.youtube.com/watch?v=lW_An_mfuYI"]‪Tilt & Sprout - action puzzle game for iPhone and iPod Touch‬‏ - YouTube[/ame]
iTunes link
Tilt & Sprout for iPhone, iPod touch, and iPad on the iTunes App Store
APP DESCRIPTION
Tilt & Sprout is the colourful, fun-filled puzzle game where the player helps vulnerable seedlings grow from seed to flower through hazard strewn underground mazes. Using the simple to learn tilt controls makes the game intuitive to play but conquering underground labyrinths is where the challenge lies.
As your sprout continually grows through the level you will collect flower boosting minerals. With each new mineral your sprout gets stronger and grows faster, increasing the challenge and testing your reflexes.
Can you get the sprouts through the puzzle strewn mazes and to fully grow, showing their unique and amazing blooms?
GAME FEATURES
* Simple tilt controls …intuitive to play!
* Can you grab the flower boosting minerals on each level to obtain the gold rosette?
* A huge variety of cute flora to be discovered
* Each seed packet introduces a new game mechanic that can help and hinder
* 48 FUN-FILLED LEVELS (and growing) across a variety of imaginative cartoon-style landscapes
* FREE UPDATES coming providing additional levels, features and more surprises
Last edited: