Joined

Dec 2, 2011
Messages

1
Reaction score

0
Meet new remote control app
JumiOne
developed by famous iOS developer JumiTech.
This is an ultimate remote app no such remotes bundle exists on the App Store.
The only app that not only enable remote desktop but it has a pile of apps such as remote webcam streaming, wireless joystick, crazy Fly Game and more.
You can switch between apps easily by swiping 3 fingers on screen for example switch b/w cam and remote desktop (mouse+) or JumiFly .
The app will auto identify any pc that runs on local network for easy setup and first connection.
The app uses a special technology to enable remote access (3G access) to your pc as well as using Goggle credentials to access pc from your iPhone.
The app remembers your last app/pc and reruns it on next lunch (fast connection)
JumiOne is a platform for remote apps so you will see new apps pop on Jumi one such as JumiSign that was added few month ago
[JumiSign - now you can sign your document on your pc w/o the need to print sign and scan again] Jumi sign is a free app – our contribution to save the trees
JumiOne also uses so special technologies as the advanced streaming technology to stream video (JumiCam / JumiMouse+)
It uses a real hardware drivers to emulate keyboard mouse & joystick.
You can watch video (special streaming mode on JumiMouse) played on your pc.
JumiMouse family (JumiMouse, JumiMouse+, JumiMouse-gamer edition and JumiRemotes) have the ability to run remotes created by users
You can download remotes created and shared by users directly from app and run it with a single click
You can create remotes for any application you want to control on pc and it's free.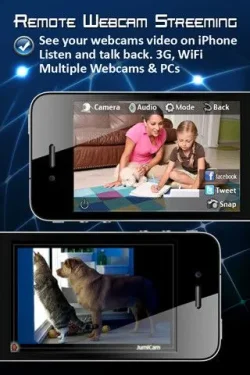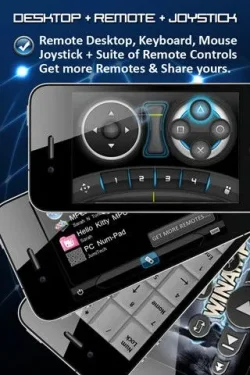 Here are some of the app's features:
JumiMouse+: Turns your iPhone/iPod into a remote desktop client, mouse, keyboard, and a wireless universal PC remote control all at once! This app can also transmit PC Video & Audio as well.

* JumiMouse+ Gamers Edition: This app is almost exactly the same as JumiMouse+, but also includes a professional Joystick game controller for the PC gamer in all of us.

* JumiCam: A high performance monitoring, tracking, and spying system with the power to connect to an unlimited number of web-cams & PCs. Can stream live video and audio straight to user's iPhones.

* JumiFly: This app is available simply for the sake of having a good time. Users can use JumiFly to play a clever prank you can play on their friends & family by teleporting a virtual yet life-like fly from their phones to their friends' PC monitors.

* JumiAmp: This useful app turns user's iPhones/ iPods into the ultimate remote PC Winamp controller. Users can utilize JumiAmp from anywhere & play music or watch movies stored on their PC's on the go. This app works via Wi-Fi, 3G, or Edge connection.

* JumiRemote: A collection of remote controls for different PC programs. Download more remotes for free from JumiTech's gallery, or even build and your own remote control for any PC program.

* JumiSign: A simple solution for signing a documents stored on a PC. Users Simply sign onto their touch screen and paste pre-made signatures as an image in any document in seconds.

System Requirements:

Windows XP/Vista/7 (32/64 Bit)
JumiController currently does not support use for Mac laptops or desktops.

Installation & Connection:

Install the Jumi Controller from JumiTech.com
Start JumiOne on your iPhone/iPod and connect.

Transform your iPhone into a centralized remote control for your entire PC with JumiOne today! This powerful mobile control hub has the value of six unique remote apps that let you control your desktop's mouse, camera, as well as Winamp and other software from anywhere!