Joined

Jul 31, 2014
Messages

1
Reaction score

0
[h=1]
Home Remedies Pro Expert – Remedies, Ideal Weight, BMI & Calorie Calculator
[/h]
We cover almost everything, be it acne/pimples, UTI, eczema, calorie intake, dandruff, yeast infection, obesity, gout, cold, BMI, cough, fever, ideal weight, diarrhea,nausea, hangover, burns, problems related to eyes, joints, hair, menstruation, skin, BP etc. (Detailed list can be found at the end of the description)
You can request a remedy as well and we will add that in next update.
Added Features: BMI Calculator, Ideal Weight Range, Calorie Calculator.
CountOnApps brings you a must have app, which is simple and easy Home Remedies app. Its different. It's to the point and it is not just another Home Remedies app which is full of randomness. Using our app we will tell you about the ailment/disease, their symptoms, the remedies and also the science behind those remedies. Currently, we have covered 101 diseases and we promise to grow big in upcoming releases.
Key Features
1. Covering More than 100 ailments/diseases.
2. Know the reason behind why a remedy should work.
3. Small size of the app
4. Share on Facebook, twitter, email etc.
5. BMI Calculator.
6. Ideal weight range.
7. Calorie Calculator.
8. Simple yet effective UI design.
9. Super Fast Search.
10. App support.
11. Pinch Zoom.
12. Request a remedy
Detailed List: Acidity, Acne, Acne Scars, Anemia, Arthritis, Arthritis Pain, Asthma, Athlete's Foot, Back Pain, Blocked Nose, Boils, Bronchitis, Bruises, Burns, Candida, Chicken Pox, Cold, Common Warts, Conjunctivitis, Constipation, Coughing, Cracked Heels, Dandruff, Dark Circles, Diabetes, Diarrhea, Dry Cough, Dry Skin, Dyspepsia, Ear Pain, Eczema, Eye Infection, Fever, Flatulence, Flu, Gas, Gastric Ulcer, Glowing Skin, Gout, Grey Hair, Hair Fall, Hangover, Headache, Hemorrhoids, High Blood Pressure, High Uric Acid, Hyperthyroidism, Hypothyroidism, Indigestion, Influenza, Insomnia, Irregular Periods, Itching, Jaundice, Jaw Pain, Jock Itch, Joint Pain, Kidney Stone, Knee Pain, Lice Problem, Loose Motion, Low Blood Pressure, Menstrual Pain, Migraine, Mouth Sores, Mouth Ulcers, Nausea, Nose Bleeding, Nose Block, Obesity, Oily Scalp, Oily Skin, Open Pores, Osteoarthritis, Piles, Pimple Marks, Pimples, Pink Eyes, Rashes, Ringworm, Runny Nose, Sore Throat, Split Ends, Stomach Pain, Stomach Ulcer, Sun Tan, Throat Infection, Tonsillitis, Toothache, Upset Stomach, Urinary Tract Infection, Vaginal Yeast Infection, Varicose Veins, Vomiting, Weight Loss, White Hair, Wrinkles, Yeast Infection, Yellow Nails, Yellow Teeth, Zits
Screenshots
: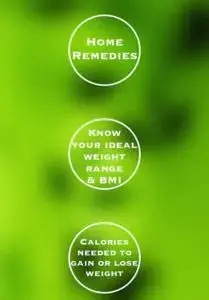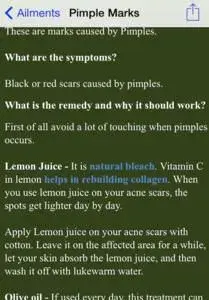 Appstore Link:
https://itunes.apple.com/us/app/home-remedies-pro-expert-remedies/id902027822?ls=1&mt=8
Looking forward to get some suggestions/feedback from you.
Thank You So Much!
CountOnApps