★★★★★ VOT : Voice to-dos Reminder ★★★★★
Highly Recommend app
=======================================================

100% off sale NOW FREE FOR A VERY LIMITED TIME!!
AWESOME!!
=======================================================
VOT

is Very Helpful. This is The Easiest Way to Create To-do in Rush hours.
​
Driving car in rush hours and can't typing to-do.
Always forgot time to exercise?
Don't want to miss your favorited TV-show?
Have a lot of thing that you want to do in each day but can't remember all?

Today, Problem Solved!!

It's Time To Meet Your New Secretary.
VOT: Voice To-do - Jot with Voice NOW FREE (Save $1.99)

https://itunes.apple.com/us/app/vot-voice-to-dos-jot-with-voice/id537147223?mt=8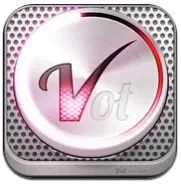 ​
★★★★★ With Awesome Features: ★★★★★​
In VOT, the users can create a new to-do in order to help remind themselves what they are going to do in each day. For more convenience, VOT was designed in a simple clean and clear interface to make it easy for users to use. Voice reminder is the highlight of the app. With this feature, the users are able to record their own voice as a to-do instead of normal actions like taking a note or typing it on their devices when they are in rush hours or even driving cars. That's why VOT can definitely respond the users' needs. This app can reduce time for writing and typing, but just speaking out what you must do and want to be reminded.


The features and functions were designed to serve in many purposes for the users such as business purpose, family purpose, study purpose, and many more. VOT is easy to use for everyone. To use it, the users only just tap on VOT sign, and speak out what you want to remind yourself. Then in the setting mode, we provide many useful options for the users. Auto Stop Record is proper for those who spend most of their time on driving. After you speak out to your device, it will automatically stop and save within 3 seconds, so the users does not need to look on the phone and tap on the record button again. In addition, Alert Time allows the users set the time to alert. After recording a voice to-do and choosing the alert time, this feature will be activated in a specific time such as 3 minutes, 5 minutes depends on how long you select.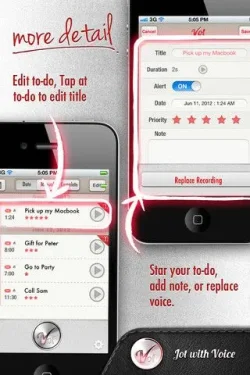 Don't waste your time. I know everyone have a lot of important thing to-dos. Let's VOT help you.
For this month VOT is now FREE for everyone. (Save $1.99)
Download Here: https://itunes.apple.com/us/app/vot-voice-to-dos-jot-with-voice/id537147223?mt=8
If you already download VOT, Please give us rating and let us know your feedback.
​
Last edited: