Hi guys, PowerSketch is FREE for a limited time, just four days left!! Don't hesitate to get it for FREE now!
PowerSketch is a Photo & Video app which has many magic sketch effects, including rice paper, picture-in-picture, shadow, wash, neon, and more.
You can capture an image and turn it into a sketch or select an image from your camera roll or gallery to convert to a sketch. Most importantly, it not only supports photos, but also videos!
When you're done, share with your friends and families on YouTube, Facebook, Twitter, Flickr, Tumblr, or email with one tap only. Things haven't been so easy before.
Below is some photos showing you brilliant sketch effects. Believe that you will love it!!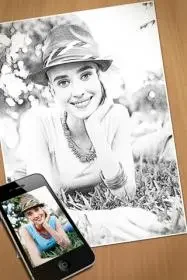 You can get PowerSketch for free from iTunes:
App Store - PowerSketch
Or you can scan the bar code below to download it on your iPhone/iPod Touch