Good news! Wondershare PowerCam™ 2.0 is available online! Now, with newly added panorama shot, post-production, polar Tilt-Shift Mode, Instagram sharing, and more stunning features, you can easily shoot and have fun with creative and artistic photos and videos. Why not update it now?
A Million Shades of Fun
The only app with Color Splash, Tilt-Shift & Panorama (In-App-Purchase) that lets you add real-time effects to photo & video!
★Achievements★
"Staff Favorites" at Apple App Store
"App of the Week" at Apple App Store
Named No. 1 App in Photo/Video or All Categories in nearly 100 countries
1 Million Downloads in the First 7 days
Over 30 Million Downloads in 6 months so far
★Features★
Capture Photos with Real Time Effects
Simply switch between 60 + effects for inspiration or simply for fun.
Shoot Any Size Video with Real Time Effects & Share Instantly
Upload ANY SIZE VIDEO to social sites, not just 15-second clips.
Shoot the Skyline with Panorama (In-App-Purchase)
Snap away in a semi circle and the app automatically combines your shots seamlessly into a great looking landscape.
Strike a Pose with FaceTimer
Intelligently recognizes faces and starts counting down—so you can just smile and look good.
Tilt-shift
Choose between Linear Mode, better for landscapes and Polar Mode for round objects. This technique plays with the focus of the lens in order to make your subject look miniature.
Color Splash
Keep a bit of color against black and white, or vice versa.
Add Effects While You Shoot & After You Shoot
Add over 60 real-time effects to live photo or video as you shoot or to your iPhone Camera Roll.
Create an Eclectic Collage
Tell a story in snapshots by dropping crafty collage templates straight from your Wondershare PowerCam TM gallery or your iPhone Camera Roll.
SHARE Almost Anywhere
Share with single or batch uploading for images and videos to Instagram, Facebook, YouTube, Twitter, Flickr, Tumblr, E-mail, etc.
★What's New in 2.0★
Big Upgrades:
-New edit functions apply effects and frames to your Camera Roll photos
-New Panorama mode lets you easily capture high-quality vistas in seconds
-New Polar mode for Tilt-shift works better with round objects
-Color Splash improved, now featuring 2 modes: 1-tap color removal and 1-tap color save
-Even MORE cool effects!
Excellent Extras:
-Now with basic editing functions in Collage mode, along with more collage templates
-Simply tap to capture images either on the screen
-Easily navigate Wondershare PowerCam with a new 1-touch help button
-Bugs fixed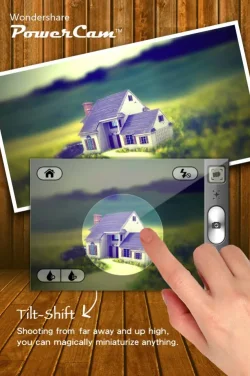 Last edited: