Joined

Apr 10, 2013
Messages

1
Reaction score

1
Hi all,
I am happy to annonce that my first indie iOS game for iPhone, iPad and iPod has been released to the App Store:
Letter Atack


If you are into fun word games then Letter Attack is for you!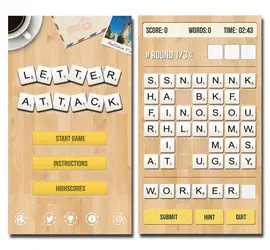 Link to App Store:
https://itunes.apple.com/us/app/letter-attack/id557710882?l=de&ls=1&mt=8
Link to Website:
[Edited]
[Moderator edit: Removed link to developer web site. Please read our rules. Thanks.]
What reviewers say:


✭✭✭✭ apppicker.com: "I love puzzle games and this one was really great."
✭✭✭✭ allemeineapps.de (5 of 5 stars): "My favorite game of the week!"
✭✭✭✭ appgefahren.de: "Great new word game for iPhone and iPad."
✭✭✭✭ sonoya.com: "Cool iOS game by an indie developer."
Letter Attack is a fresh and unique word game for iPhone, iPad, and iPod Touch that will keep you hooked for hours. Clear the game board by creating as many words as possible but watch out - time is running against you!
With the right strategy and a bit of luck you are on your way to crack the next highscore. This game is not only about playing words - it comes with strategic elements that will tickle your brain!
This is the perfect game if you want to spend a few challenging minutes on the train, bus or underground - but beware, this game is addictive and time is flying by. Up for a longer game? No problem, just pick the number of game rounds you want to play and you are ready for lengthy challenges!
Are you ready to test yourself and see how good you are? Get started now!
Highlights:


✱ Randomly generated game boards for unlimited variety in gameplay
✱ English and German language dictionaries (supporting Umlaute ä, ö, ü) - more to follow!
✱ Powerful word engine and massive wordlists allow for extensive gameplay
✱ Three different games modes (Classic, Rush & Survival)
✱ No need to connect letters in a certain order - unchained gameplay!
✱ Universal app for iPhone (including iPhone 5), iPad and iPod
✱ High quality graphics with Retina support
✱ Game Center implementation - challenge your friends
✱ No internet connection required for gameplay
✱ No login with social networks required
✱ No ads, no In App Purchases – no annoyances!
✱ Word lists continously updated and extended - send us your requests!
Letter Attack made it to #1 (iPad) and #2 (iPhone) on the German App Store for word games.
Hope you like it!
Jens
heftyApps.com
Last edited by a moderator: