Joined

Nov 27, 2012
Messages

836
Reaction score

129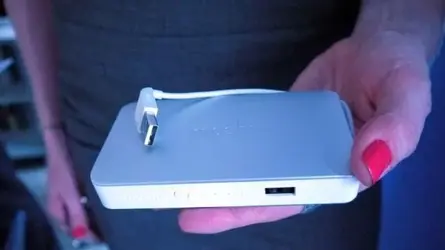 ​
Summer has arrived and with it the promise of fun filled vacations. But we have all experienced the annoying hassle of packing all the needed wires which will help keep our devices alive during the holidays.
But thanks to Moshi, you might be carrying one charger less in your trip bag. Meet the IonBank – a wonderful new external battery technology that allows you to charge your iPhone via a Lightning connector anywhere, anytime. The power station is not ready yet to greet consumers' eyes and will apparently make its debut on the market somewhere in the Q2 of 2013. We can't wait to grab it, as Moshi claims the IonBank is capable of dispensing 5,000 mAh to any iOS device you own.
​​
This is the equivalent of two full iPhone charges and one and a quarter for your iPad. So, unless you will be spending your whole holiday in Tahiti watching movies on your tablet, this should be more than enough. Nevertheless, you still need your USB cable to connect the IonBank to your device. You should also know that it takes about an hour and a half to fully charge an iPhone 5 using the Moshi technology.
The 10,000 mAh of the IonBank has been announced at the International Consumer Electronics Show this year in Las Vegas but the technology did not feature a Lightning cable.
The 5,000 mAh IonBank is going to become available for the price $89.99. The technology seems pretty useful, but in the end don't you just end up trading one cable (the charging one) for the other (the USB one)?

Source: Mashable