First of please forgive me if this is a stupid post! I have a jailbroken iPhone 4 running on IOS 5.0.1
My 18 month old nephew was playing with my iPhone and some how managed to get a clock showing on the first page of the iPhone. The clock is the same as the iPhone stock clock but it is the size of 4 app logos and is showing the correct time with the seconds hand moving around correctly. See attached photos.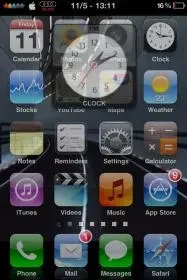 The clock can not be moved from the first page, even if I hold the apps down to delete them, the clock is immune to this. I can however still use the apps behind the clock.
I have checked everywhere and Googled all sorts but can not find out how the clock was activated or how to remove it.
Any help with this will me much appreciated as I just want to find out how to remove it please.