DailySync Pro is a news reader app for iPhone. This app also includes Twitter, Facebook and calendar clients.
The main features include
Content is presented in a easy to use visual layout
The content sources (websites, blogs, etc) can be organized into multiple lists
Mark the articles/posts as "read" as you view them, so that you can focus on fresh content
The app is optimized for fast loading and display
You can share items on social networks and by email
The app is optimized for efficient access to large number of sources
A large selection of sources are configured into the app for you to browse and discover new and interesting sources of content across many categories including

Technology, Politics, Fashion, Food, Entertainment, LifeStyle, Design, Sports, etc.
The app store link to download -
App Store - DailySync Pro
Here are a couple of screenshots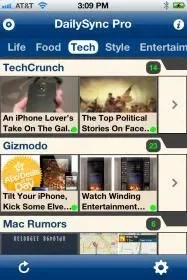 *******
*******
Last edited: