Description
★★★ PLEASE NOTE THAT: PrintForte Lite is aimed to check compatibility with your printer setup. If you can print a test page with this app, then your printer will work fine with the full version of PrintForte.
__________________________________________________ ________

PrintForte is the application that lets you wirelessly print from the iPhone or iPad. It can print directly to many Wi-Fi printers and to any ETHERNET / USB printer attached to your Mac or PC via free helper application (PrintForteShare) installed on your computer.

Easy mobile printing of most digital content (Photos, PDF, Word, Excel, Powerpoint, text files and web pages) with flexible control and high printing quality.

This app supports more than 1000 printer models of many manufacturers (for example: HP, EPSON, Brother, Canon, Dell, Kodak, Lexmark, Xerox, Ricoh, Samsung, Sharp,&#8230
including WIFI / ETHERNET / USB printers and most of other OEM Brands.

Demo Video:
__________________________________________________ ________

Reviews on the full version of PrintForte:

"Awesome.This app found my printers and worked the very first time. It has many functions very cool, useful and this is a revolutionary app. Thanks developver for nice supporting. I would highly recommend this app be in "must have" list."

"I have been looking for an app that can help me easy to print and finally found this app that works well with my iPhone and EPSON workforce 630. Love it."

"This is exactly app that I expected for a long time. Thank so much!"

"Incredible! We have 4 kinds of different printers. It works well on all these printers without installing any driver. Thank so much!"
...
__________________________________________________ ________

 MAIN FEATURES IN THE FULL VERSION OF PRINTFORTE:

★ Print Photos: FLEXIBILITY of moving, scaling, rotating, turning on/off color…

★ Print Documents: supports most of typical documents (PDF, WORD, EXCEL, POWERPOINT, RTF, RTFD, TXT&#8230
, with the ability of Page Range selecting. It also lets you print from Mail, Dropbox, iDisk and other apps. (only purchase ONE TIME to have the Documents Printing feature).

★ Print EMAIL ATTACHMENTS: attached documents in email can be opened and printed in this app (Once installed, PrintForte will be appeared in "Open In ..." list).

★ Print Captured Image Immediately: you can use camera to take a photograph and print it immediately without selecting from the photo library.

★ Print Pasteboard: you can copy text, image, web page content to Pasteboard to print. You are also able to edit content on the Pasteboard, for example: edit text content, change font of text; move, scale, rotate and turn on/off color for image.

★ Print Web Page: A simple web browser will help you easy to browse and print web page content.

★ QR Scanner: you can use QR Scanner function to find and print information got from QR Code.

★ File Sharing: you can transfer documents between your Mac and this app via File Sharing on the iTunes.

★ Printer Sharing: This app will use wifi to print directly to many kinds of printers and any printer that can be shared from your Mac via Printer Sharing (System Preferences -> Sharing -> Printer Sharing). The printer must be on the same wifi as your ID. For Windows users, printers can be shared via our free PrintForteShare (application on Windows). Please visit PrintForte, Wireless print, Wifi printing app for iphone, ipad, Airprint to download.

Please note that if you have a Mac with "Printer Sharing" on you will have a 100% Success Rate.

Please visit printforte.liforte.com to download.


Full list of supported printers available at print.liforte.com.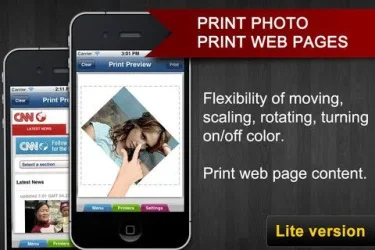 Besides you can see link:
http://www.best10apps.com/apps/print...527818325.html
Last edited by a moderator: