iPhone Forum
​
Welcome to iPhoneForums.net - The Premier
iPhone Forum
and fan site dedicated to the one and only Apple iPhone. Our community one of the best resources for all iPhone News, iPhone Questions, iPhone Help, iPhone App Reviews and general iPhone Discussions. The first step would be to
REGISTER
so you can take advantage of all the features we have to offer. Registration is free and only takes a few seconds! Be sure to checkout these areas of the site:

iPhone News - View the latest iPhone News


iPhone Forum - The main iPhone Forum with thousands of discussions


iPhone 5 Forum - Discussions for the iPhone 5, iPhone 5S, and iPhone 5C


iPhone 6 Forum - Discuss the all new Apple iPhone 6


iPhone Apps - All iPhone App discussions here


iPhone Games - All iPhone Gaming talk here

iPhone Jailbreaking & Hacking
- Discussions for hacking, unlocking, jailbreaking your iPhone.
​
​
Skype is one of the most used apps of its kind with millions of iPhone users all over the world. Now, it has been updated with some new features that have been long overdue.
First of all, iPhone users now have the possibility to save and delete photos from chats. Also, chats load faster, especially when opened from a notification. Here are the rest of the features that are now available through the official page on iTunes:
· Avatars for all chats now stay in sync across platforms
· People list filter (all contacts, Skype contacts, online contacts) usability improved
· General improvements
Source:
iTunes
​
Bossa Studios' Surgeon Simulator has already been a massive hit on iPad, and now the developer has announced that it is available for iPhone as well. The good news for those who already own the iPad version is that you can get the iPhone version free of charge. For everyone else, you'll have to fork over £3.99/$5.99/€5.49, but that's a small price to pay for one of the most successful, and by all accounts one of the most addictive iOS games of the year.
Following its release last March on iPad, Surgeon Simulator has made the top 3 in the paid App Store charts in all English-speaking countries, as well as topping the Role Playing chart in 91 countries, including the U.S., U.K., Australia, and Canada.
Gameplay is exactly the same as the iPad version, with the world's unluckiest patient, Bob, falling prey to the player's scalpel on the operating table. All your favourite transplants from the iPad game are included (!), and you get more than 50 achievements to unlock. You can also record and upload your botched surgeries (but only on iPhone 5 and later).
Click here to download:
Surgeon Simulator on the App Store on iTunes
Source: Bossa Studios
​
[Editors Note: Here's an interesting Off-Topic story for you guys today. Microsoft just released a new wearable fitness device called the Microsoft Band. The coolest thing about this device (and the reason we are sharing it here) is that it has full cross platform compatibility. That means whether you are on a Windows Phone, an iPhone or an Android phone, you can pair up with and use this intriguing fitness smartwatch.]
Microsoft has released their very first fitness band and it is quite the piece of tech. The band has a built-in GPS tracker to monitor your movements and a novel UV sensor so that you can keep track of your exposure to sunlight. Some other cool and useful features involve a skin temperature monitor and a heart rate sensor that use an optical sensor which are far more accurate than the audio sensors attached to many other bands.
Keep in mind the Microsoft Band is much more than just a fitness band. It incorporates a whole slew of features that you'd expect in a smartwatch and builds them right into the band. Features such as Twitter, Facebook, Calendar, Weather, and stock tracking are all integrated into this well built piece of tech.. Microsoft has taken the bold step of making the Band compatible with devices running Android 4.3 and 4.4, iPhones running iOS 7.1 and later, and of course Windows Phone 8.1 users. Users connecting it to a Windows 8.1 smartphone get the added bonus of Cortana integration. How do you like those apples (no pun intended)
The Microsoft Band retails for $199 and is currently only on offer in the US. To purchase the Microsoft Band please visit the
Microsoft Store
.
As originally written by Cereal Killer over on SurfaceForums.net:
Now Available Microsoft Band...
​
It's a fact that the only Android manufacturer which has had any success in competing with the Apple iPhone is Samsung. They quickly rose to the top of the Android heap and began to challenge Apple in the high-end while outselling everyone in the low-end. On top of that, Samsung pioneered the "phablet" style smartphone with their Galaxy Note line of larger smartphones.
Despite their success, things are not very rosy for the Korean manufacturer right now. Their recent earnings report indicated a 60% profit drop and a 20% revenue decline in the third quarter. Of course, the Galaxy Note 4 just started hitting streets, and it will likely be a very lucrative product for the company. Even as that reality comes to fruition, Apple is back to its incredible domination over Samsung again. Kim Young-chan from Shinhan Investment recently released an analysis in which he believes that the various versions of the iPhone currently sold on the market, from the iPhone 5S, to the iPhone 6 and iPhone 6 Plus will outsell the Galaxy Note 4 by 10 to 1 ratio!
Basically for every single Samsung Galaxy Note 4 sold, Apple will sell a whopping 10 iPhones! While his figures might be a little over-the-top, it wouldn't surprise us if the sales margins were close to that. Most sales predictions suggest that Apple may sell as many as 80 million iPhone units in the October-December period. If we look backwards in time, we can see actual results. According to sales estimates, Samsung sold 4.5 Million units of the Galaxy Note 4 during its first month, whereas Apple may have sold over 20 million iPhone 6 units in the first two weeks of sales. This doesn't even include sales numbers in China which could hit another 20 Million! Wow!
Source:
BGR
​
According to a report on AppleInsider, Apple has entered into early talks with distributors in Iran regarding officially selling the iPhone in that country.
Sources familiar with the negotiations have told The Wall Street Journal that Apple executives have been meeting with Iranian distributors at Apple's London offices, in a bid to set up an official iPhone reseller network in Iran.
This move comes nearly a year after the U.S. started relaxing some of the sanctions imposed on Iran, and any future deals of course depend on how the diplomatic situation continues to develop. Any sudden worsening of relations could see an end to the talks.
Apparently many other Western business are also taking similar steps to tentatively test the waters regarding doing business in Iran, but AppleInsider says that the majority of those are in Europe, rather than the U.S.
The sources also say that it is likely that Apple will be using a network of premium resellers in Iran, rather than opening Apple Stores in the country, but you never know what might happen in future.
One thing's for sure, the demand is certainly there in Iran; AppleInsider notes that in 2013 a report found that banned Apple devices were in high demand in Iran, with underground smuggling operations set up to bring the devices into the country.
Source:
AppleInsider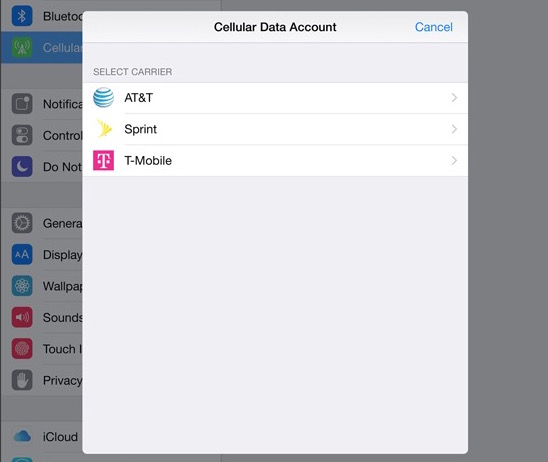 ​
The new Apple SIM in the iPad Air 2 and iPad Mini 3 is meant to allow users to switch between carriers on short term plans, straight from inside the device's software, without having to remove the SIM. But Apple's brave initiative isn't working out as it was planned, because it seems that AT&T, the country's biggest carrier, will still require for a physical replacement.
And if you were hoping that this feature could make it to future iPhones, then we have some more bad news. According to Apple vice president of iPhone, iPod and iOS product marketing, Greg Joswiak, the company has not discussed putting the Apple SIM into iPhones, because most customers buy an iPhone through a carrier directly and thus, the Apple SIM is not as well suited. He said:
"We ultimately don't know who you are going to use as the carrier, [and] we want to make it as easy as possible. I don't think you're going to go to the Verizon store and say, 'Can you hook me up with AT&T?,'"
Source:
Recode
​
There's always going to be an ongoing debate on such sensitive subjects as sexual minorities, but what's important to understand is that all of us have the right to be different. And this seems to be Tim Cook's message in a letter that he published recently, revealing that he is "proud to be gay". Apple's CEO says that this has given him perspective on what it means to be a minority.
What needs to be pointed out is that Tom Cook didn't hide his sexual orientation, but he has now decide to publicly acknowledge it. Apple CEO says that it was his desire for privacy that has held him back from "doing something more important." Here's how the entire content of his letter sounds like:
"Throughout my professional life, I've tried to maintain a basic level of privacy. I come from humble roots, and I don't seek to draw attention to myself. Apple is already one of the most closely watched companies in the world, and I like keeping the focus on our products and the incredible things our customers achieve with them.
At the same time, I believe deeply in the words of Dr. Martin Luther King, who said: "Life's most persistent and urgent question is, 'What are you doing for others?' " I often challenge myself with that question, and I've come to realize that my desire for personal privacy has been holding me back from doing something more important. That's what has led me to today.