iPhone Forum
​
What better way to celebrate the upcoming iPhone 6 release other than a giveaway? Better yet, an otterbox giveaway? Otterbox was kind enough to host this giveaway/contest and one lucky iPhoneForums.net registered member will win one of these 4 iphone 6 cases of your choice!
Rules are simple
, simply post in this thread what color iPhone 6 you'll be getting and which iPhone6 Otterbox case interests you the most. This contest will end in 3 days and one random winner will be chosen. The Otterbox iPhone6 lineup can be
found here
and as follows:
Defender Series:
– Triple-layer, ultra rugged iPhone 6 cases made to survive the bumps, drops and scrapes you encounter on your adventures
– Built-in screen protector shelters every inch of the 4.7" display, defending against scratches, scrapes and scuffs
– Protective membrane cradles the Touch ID to block dust and debris and enhance device functionality
– Customize your case with a variety of color options and build your own personally designed case
– Belt-clip holster keeps your device handy and provides a mini-stand for hands-free use
Symmetry Series:
– Dual-material construction makes this one of the slimmest, most protective iPhone 6 cases in its class
– Sleek and slim iPhone 6 case is a cinch to install
– Make this stylish iPhone 6 case your canvas for design when you choose from a full spectrum of wraparound colors and graphics
– Streamlined design delivers tough protection from drops and shock
Commuter Series:
– Safeguard your device from the daily grind with this slim but sturdy iPhone 6 case
– Tight-fitting port and plug covers keep grit and grime from building up in your jacks, ports and inputs
– Comes with a stick-on screen protector...
​
Welcome to iPhoneForums.net - The Premier
iPhone Forum
and fan site dedicated to the one and only Apple iPhone. Our community one of the best resources for all iPhone News, iPhone Questions, iPhone Help, iPhone App Reviews and general iPhone Discussions. The first step would be to
REGISTER
so you can take advantage of all the features we have to offer. Registration is free and only takes a few seconds! Be sure to checkout these areas of the site:

iPhone News
- View the latest iPhone News

iPhone Forum
- The main iPhone Forum with thousands of discussions

iPhone 5 Forum
- Discussions for the iPhone 5, iPhone 5S, and iPhone 5C

Verizon iPhone Forum
- Verizon iPhone Forum with Verizon specific discussions

iPhone Apps
- All iPhone App discussions here

iPhone Games
- All iPhone Gaming talk here

iPhone Accessories
- iPhone Accessories/Case discussions and Reviews

iPhone Jailbreaking &...
​
​
Sometimes you see a product hit the streets and it just makes you say... "Wow! Why didn't someone think of that sooner!" Here's a prime example: the Universal Mobile Keyboard from Microsoft. It basically does exactly what it sounds like it should do... you can use this on your Windows device, your iOS device or your Android device.
It basically offers the "platform agnostic" mobile hardware junkie the best of all worlds for their various tablets and other devices. It's designed to make things much easier when you actually need to be productive on your tablet, and don't feel like lugging around (or breaking out) your laptop.
This universal keyboard uses Bluetooth and even works on most of the phones from Android and iOS. Check out the video above for a demo. The keyboard is a bit pricey at $79.95 on Microsoft's Store, but the versatility and virtual elimination of extra junk could provide extra value.
Thanks for the tip, leeshor!
Source:
Microsoft Store
​
There are already some doubts being thrown around the web regarding privacy issues on the Apple Watch. These doubts came in the form of several questions which were posed by Connecticut Attorney General George Jepsen, who sent a letter to Apple's CEO, Tim Cook. Jepsen has several legitimate concerns about how the Apple Watch will handle certain privacy issues.
Here are a few snippets from his letter with the main issues of contention:
Whether Apple will allow consumers to store personal and health information on Apple Watch itself and/or on its servers, and if so, how information will be safeguarded;
If and how Apple will review application privacy policies to ensure that users' health information is safeguarded;
If and how Apple intends to enforce policies that require the rejection of applications that provide diagnoses, treatment advice, or control hardware designed to diagnose or treat medical conditions that do not provide written regulatory approval;
What information Apple Watch and its applications will collect from users, and how Apple and application developers will obtain consent to collect and share such information from these individuals; and
How Apple intends to monitor and enforce applications' compliance with its guidelines concerning users' health information.
As it turns out, several of Jepson's concerns are addressed in
Apple's Review Guidelines for developers
that was updated in June. Still, not all of Jepson's issues have been sufficiently addressed, so it will be interesting to see if and how Apple responds.
What do you think? Are any of these problems important to you?
Source:
MacRumors
​
The new chipset in the iPhone is still a bit of a mystery. We know that the A8 CPU itself is a dual-core 1.4GHz Cyclone CPU, but the GPU has not been revealed yet. The industry speculation suggests it is the PowerVR GX6650, which is the next generation version of the same thing found in the iPhone 5s.
A set of benchmarks for the iPhone 6 recently popped up online. The performance is not at the top of the heap, but is still very respectable. The iPhone 6 scores a solid 21,204, which is only a bit behind the Samsung Galaxy S5 with a 23,501 score.
Of course, these kinds of raw performance numbers do not necessarily translate into a real world experience. One of the things that Apple excels at is eking every bit of performance out their hardware by optimizing iOS to its maximum capabilities.
From everything we have heard and read about the iPhone 6 and its larger cousin, the iPhone 6 Plus, the OS performance is silky smooth!
Source:
GSMArena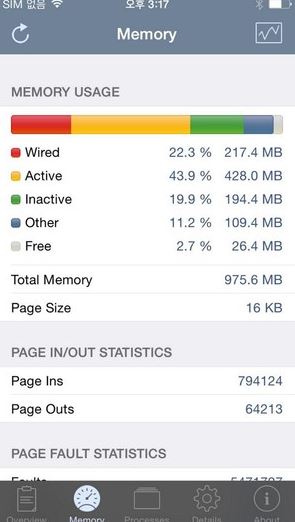 ​
Phone Arena reports that the iPhone 6 Plus will have the same amount of RAM as the smaller iPhone 6, namely 1GB. In fact, Phone Arena notes that many of the 5.5-inch iPhone's specs are very similar to those of the 4.7-inch phone.
For example, both phones share the A8 processor, in-cell touch display, and 8MP iSight camera. However, the bigger phone does have a few superior specs, such as more pixel density, with 401ppi rather than the iPhone 6's 326ppi. The battery is also bigger, at 2915mAh, and the camera has optical image stabilisation added for the higher-end model.
But getting back to that 1GB of RAM that both phones have in common, Phone Arena says that this is in accordance with Apple's tradition of not increasing the specs of a device just for the sake of it and without a sound technical reason. Basically, the iPhone 6 Plus doesn't need 1GB of RAM, so it doesn't have it.
Source:
Phone Arena
​
MacRumors writes today that the NFC (near field communication) capabilities of the iPhone 6 and iPhone 6 Plus will only be available for the Apple Pay mobile payment feature, and not for use in any third-party apps.
According to the initial report from Cult of Mac, an Apple spokeswoman confirmed this to them as fact, but would not comment on what future plans Apple might have for NFC on the iPhone. This could mean that this is only a temporary measure, and that Apple could in future open up the service to third-party apps, just as happened with the advent of the Touch ID fingerprint sensor last year.
Initially, this service was also restricted to iTunes purchases and unlocking your device, but Apple announced this year at the WWDC that developers would be able to use Touch ID when creating their iOS 8 apps.
When Apple Pay launches next month it will only be available in the US initially.
Source:
MacRumors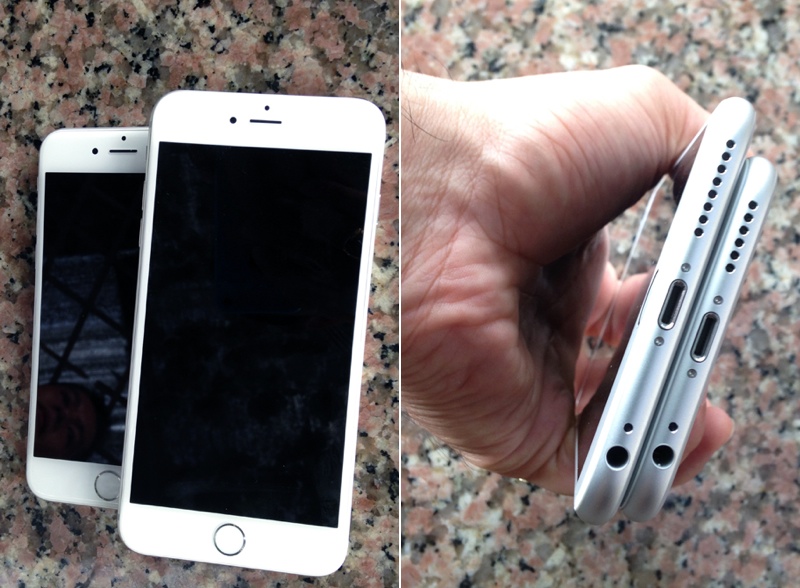 ​
The iPhone 6 and iPhone 6 Plus were announced just last week and will go on sale this Friday, September 19. This year, Apple failed to keep the two devices under wraps, as most of parts that make up the two device leaked onto the interweb months before the announcement.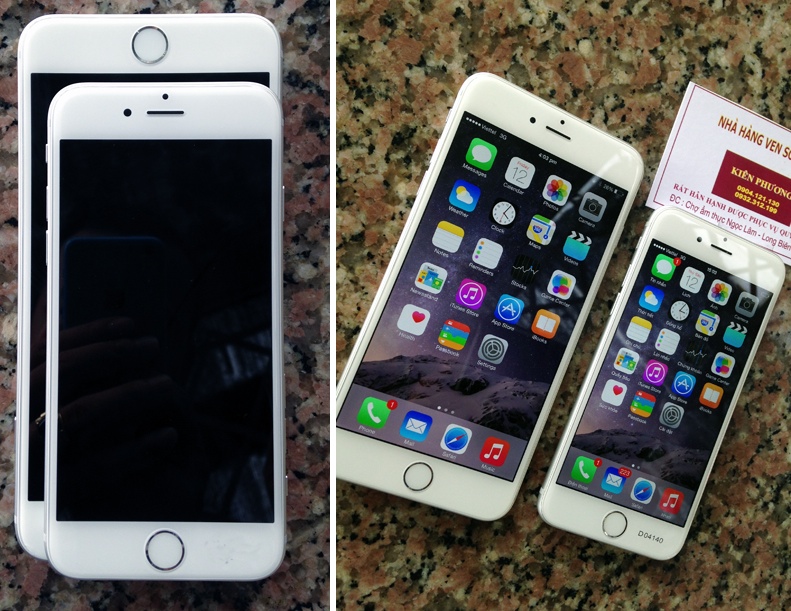 ​
Today it seems some lucky folks have already got their hands on the two devices. According to
Dan Tri
, the iPhone 6 and 6 Plus were both spotted in a Red River restaurant, located in Vietnam. Tri managed to tinker with the devices a bit, confirming they were legitimate and mentioning that the 6 Plus was comfortable to hold and felt like "a miniature mini iPad."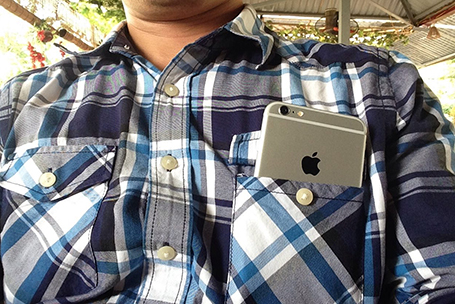 ​
Tri also mentioned that the protruding cameras on the back of the devices weren't very noticeable when using the iPhones or slipping them into a pocket. Finally, Tri mentions that the two phones are both "fast" and quick to open apps.