iPhone Forum
​
What better way to celebrate the upcoming iPhone 6 release other than a giveaway? Better yet, an otterbox giveaway? Otterbox was kind enough to host this giveaway/contest and one lucky iPhoneForums.net registered member will win one of these 4 iphone 6 cases of your choice!
Rules are simple
, simply post in this thread what color iPhone 6 you'll be getting and which iPhone6 Otterbox case interests you the most. This contest will end in 3 days and one random winner will be chosen. The Otterbox iPhone6 lineup can be
found here
and as follows:
Defender Series:
– Triple-layer, ultra rugged iPhone 6 cases made to survive the bumps, drops and scrapes you encounter on your adventures
– Built-in screen protector shelters every inch of the 4.7" display, defending against scratches, scrapes and scuffs
– Protective membrane cradles the Touch ID to block dust and debris and enhance device functionality
– Customize your case with a variety of color options and build your own personally designed case
– Belt-clip holster keeps your device handy and provides a mini-stand for hands-free use
Symmetry Series:
– Dual-material construction makes this one of the slimmest, most protective iPhone 6 cases in its class
– Sleek and slim iPhone 6 case is a cinch to install
– Make this stylish iPhone 6 case your canvas for design when you choose from a full spectrum of wraparound colors and graphics
– Streamlined design delivers tough protection from drops and shock
Commuter Series:
– Safeguard your device from the daily grind with this slim but sturdy iPhone 6 case
– Tight-fitting port and plug covers keep grit and grime from building up in your jacks, ports and inputs
– Comes with a stick-on screen protector...
​
Welcome to iPhoneForums.net - The Premier
iPhone Forum
and fan site dedicated to the one and only Apple iPhone. Our community one of the best resources for all iPhone News, iPhone Questions, iPhone Help, iPhone App Reviews and general iPhone Discussions. The first step would be to
REGISTER
so you can take advantage of all the features we have to offer. Registration is free and only takes a few seconds! Be sure to checkout these areas of the site:

iPhone News - View the latest iPhone News


iPhone Forum - The main iPhone Forum with thousands of discussions


iPhone 5 Forum - Discussions for the iPhone 5, iPhone 5S, and iPhone 5C


iPhone 6 Forum - Discuss the all new Apple iPhone 6


iPhone Apps - All iPhone App discussions here


iPhone Games - All iPhone Gaming talk here

iPhone Jailbreaking & Hacking
- Discussions for hacking, unlocking, jailbreaking your iPhone.
​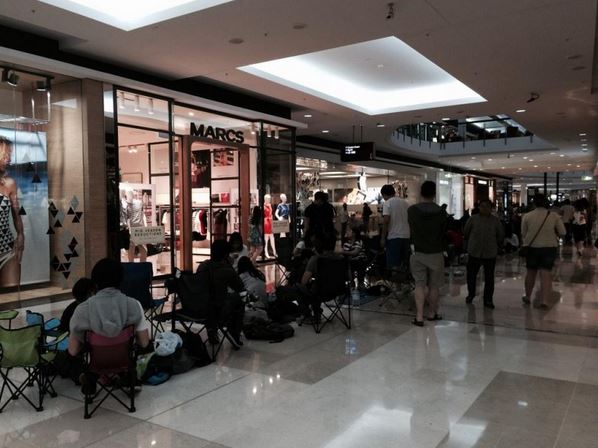 ​
As the iPhone 6 and iPhone 6 Plus arrive in stores in the first launch countries around the world tomorrow, Australia is gearing up to be the first country where the phones will officially go on sale, and MacRumors reports that the excitement is growing throughout Australia, with fans lining up around the block.
Stores should be just about to open in Australia, and MacRumors has some great pictures of the lines of customers outside an Apple Store in Doncaster, Australia, who have been camping out from 6am the previous day. Apparently the line is so long it actually runs the entire length of the shopping center.
MacRumors reports that other photos from Twitter user @rodgerodger in Brisbane, Australia, show the lines outside the store there.
And for those who have decided to have their iPhone 6 or iPhone 6 Plus delivered to their home and bypass all the lines, MacRumors says that some devices are already on their way ready for delivery.
Image credit: @rodgerrodger
Source:
MacRumors
​
One of the coolest new features of iOS 8 is the widgets which show up in the notification panel, but they won't be enabled by default in every instance. Because of this, we wanted to share a useful breakdown of how to install and use widgets on your newly upgrades iOS 8 device.
Here are the steps:
First you need to install apps that already have widgets for iOS 8 created for them - alternatively you can update an app to the latest version if the app supports widgets.
Next, after you have installed the app, you need to pull down the Notification panel on your home or lock screen and head to the "Today" section.
In the bottom of this area look for an "Edit" button. This will take you to another screen where widgets can be set up (although you won't find the word "widget" anywhere).
Specifically, Apple widgets will show up by default in a "Do Not Include" tab next to a green "+" sign. Clicking on it will enable the widget, but if you click and hold it, the right side of an active widget will let you move it up and down your list. Alternatively, if you tap on the red "-" sign, this will remove widgets.
Once you have activated a widget by pressing "Done" in the upper right, the widget will show up in the "Today" area, and that's it!
Here's a link to a handy list of the most current iOS 8 apps which have widgets already:
http://www.iphoneforums.net/threads...-apps-with-notification-center-widgets.69078/
​
From time to time, certain popular apps and games from iTunes are getting a discounted price. Today we're informing you about Stealth and Godfire: Rise of Prometheus games, which are getting some nice discounts. Here's the official description of Stealth sounds like:
Here are some of its main features:
A stealth game designed for mobile
Hide behind any wall or object!
Accurate touch commands
6 different environments in a unique Heroic Fantasy world
Master different weapons
Game Center Achievements
Texts in english and french. Other languages will be added later.
Stealth is now available for just $1.99, and it was previously $4.99, so you'll end up saving $3 with your purchase. Here's the the description of Godfire: Rise of Prometheus sounds like:
By the looks of the graphics and the ratings of the games, these seem to be some good items to buy for your new iPhone. So go ahead and follow the links from below to get them.
Source:
Stealth on iTunes
Source:
Godfire: Rise of Prometheus on iTunes
​
So, based upon Apple's own reveal, we know that some version of the Apple Watch will start out at $349 in pricing, but Apple has yet to reveal any specific pricing for any of the devices. Some speculate that the Sport version of the Apple Watch will be the one that starts with the $349 price, while the Apple Watch and Apple Watch Edition will command a higher premium.
Apple did reveal some of the materials the devices will be made of, however, which lead analyst John Gruber to predict what he believes the prices of these devices might be. His analysis is probably quite shocking if true.
According to Gruber, the following pricing model is very realistic based upon the materials the devices will be made of:
Apple Watch Sport with aluminum/glass: $349
Apple Watch with stainless steel/sapphire: $999
Apple Watch Edition with 18-karat gold/sapphire: $4,999
Yes... you read that number correctly, the gold version of the Edition watch could be as much as $5,000 USD! Gruber points out that this is because the watch will not be "gold-colored" or gold plated, but will actually be 18-carat solid gold. Based upon the price of gold and the weight of the watch case, Gruber estimates that the bare minimum price we will see for this version of the watch will be $2,000, and could get as high as $10,000.
He points out that an 18-karat gold Rolex Submariner Date costs around $34,250, (or $8,550 for the stainless steel version), so when you put it in that perspective, the price isn't too crazy. Still, if true, it means Apple really does intend to compete more in the watch industry, rather than the smartwatch industry.
What do you think of Apple's chances in this arena?
Source:
DaringFireball.net
​
Yikes! There are so many folks out there slamming Apple's download servers trying to get the iOS 8 update that some major issues have been reported. Some folks have had their update fail and are now unable to restore from a backup. This includes users of the iPhone, iPad and iPod touch around the globe.
Between software update errors, server errors and others, updating to iOS 8 right now could be a harrowing experience. The worst culprit is actually an unknown error that sometimes pops up through iTunes. Afterwards, even clicking on the "possible fixes" link provided doesn't handle the issue in all cases. This causes the device to get stuck on the download process screen and rebooting it doesn't fix the problem.
It might be worth it to hold tight for a few days until the major glut of consumers is already finished getting the update.
Source:
Gottabemobile
​
The long wait is finally over. While developers have been able to play with iOS 8 for quite some time already, the rest of us mere mortals have been content to read about all of the cool features. Speaking of cool features, the video above will walk you through most of them.
Here's a quick list of some of the big highlights,
Improved integration between Apple devices (although you need to avoid iCloud Drive for now).
Interactive notifications
App widgets in the Notification Center
Messages improvements that let users manage group conversations
Third-party access to both the keyboard and Touch ID has been enabled
Apple QuickType predictive keyboard
A new Health app is included with iOS 8 which combines health and fitness data from several places
A new Family Sharing feature lets families of up to six people share apps, music, books, and more
This is just a short list, but there are quite a few more, including refinements and tweaks to existing features. Of course, if you plan on downloading the update as Apple pushes it out, it's important to note which devices are compatible with the new iOS. Here's a list of those:
iPhone 5s
iPhone 5c
iPhone 5
iPhone 4s (compatible, but not recommended due to performance issues)
iPod touch (fifth-generation only)
iPad Air
iPad mini
iPad mini with Retina display
iPad (third-generation and fourth-generation)
iPad 2
Your easiest method to get iOS 8 on your device is to get the Apple OTA (over the air) update. It's as easy as opening the Settings app, tapping General, and then touching Software Update. After that you just need to follow the instructions to install iOS 8.
Your other option is to connect your iOS device to a Windows or Mac computer where you can download and install the new software through iTunes. Of course, it's important to back up your device using iCloud or iTunes before...