Apple iPhone Forum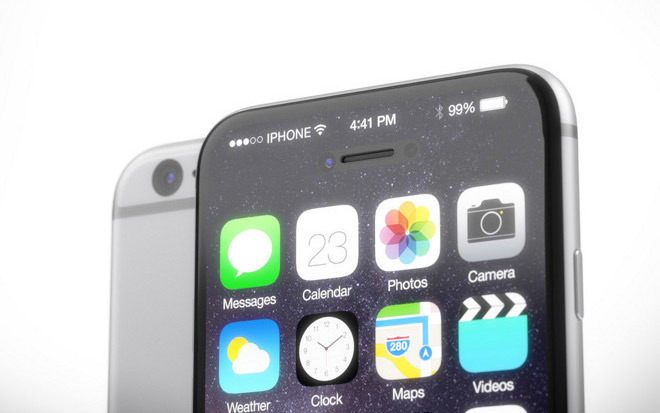 ​
Yesterday, we heard a
strange rumor
that Apple may be adding a 5-inch model to the iPhone 8 lineup next year. In a follow up to this report, AppleInsider claims that the possibility of a 'tweener' model is highly unlikely.
The online publication believes that Apple's sweet spot is the 4.7-inch iPhone model. The 5.5-inch is for folks who would like a larger screen and the iPhone SE is perfect for those who like using a smaller phone.
AppleInsider thinks that if a third iPhone model were to emerge, it would be an upgrade to the current iPhone SE line. This way customers would be able to choose between 4-inch, 4.7-inch and 5.5-inch iPhone models.
​
Just before Apple's 'hello again' event today, Twitter announced plans to discontinue its Vine social network. In the coming months, the company plans to no longer support the mobile app, however uploads will still be accessible to view and download.
Currently the service still allows users to create and upload new Vines, a feature which will be phased out shortly, according to the
blog post
.
"Nothing is happening to the apps, website or your Vines today. We value you, your Vines, and are going to do this the right way. You'll be able to access and download your Vines. We'll be keeping the website online because we think it's important to still be able to watch all the incredible Vines that have been made. You will be notified before we make any changes to the app or website."
When the app was first released in June 2012, it quickly became a huge hit among mobile users. However with popular services like Instagram quickly jumping on the short-video train, Vine never turned out to what Twitter wanted it to be.
​
The stars of the show at Apple's special event today in California was its new thinnest and lightest ever MacBook Pro laptops. Aside from being unbelievably slim and light, the new laptops also have a new touch interface to replace the traditional function keys, which, as Phil Schiller, senior vice president of Worldwide Marketing, said onstage, no one uses anymore anyway!
The new Retina-quality Multi-Touch display is called the Touch Bar, and it adapts depending on how you use the system, and depending on what apps you are using.
For example, in Safari the Touch Bar will show Tabs and Favourites; in Messages it will offer you easy access to those all important emojis; and in Photos it will make it easier for you to edit images or scrub through videos.
As far as aesthetics are concerned, the new MacBook Pro has an entirely new enclosure design and all-metal unibody construction. The 13-inch MacBook Pro is just 14.9 mm thin, making it 17% thinner and 23% less volume than the previous generation, and it weighs just 3 pounds, making it half a pound lighter than previous generations. The new 15-inch MacBook Pro is just 15.5 mm thin, which is 14% thinner and 20% less volume than before, and half a pound lighter at just four pounds.
Apple also revealed during the presentation today that the new MacBook Pros will have Touch ID integrated into the power button, which works in exactly the...
​
Apple's big event today is primarily to launch the new MacBook range, but before unveiling the new computers, Apple CEO Tim Cook announced a brand new unified TV app that he said will "completely change how you watch TV with your Apple TV as well as your iPhone and iPad."
One of the app designers then demoed the new app and some of its main functions, kicking off with Watch Now, a feature where you can see everything that you are presently watching on all your apps on all your devices. You can then go to Up Next or Recommended to choose what to watch next.
In Up Next, all the shows and movies that you are currently watching are presented in the order that you're most likely to watch them in, so the next episode in a series will be presented to you next, for example. You can also choose at any time when using your device to ask Siri to continue watching a show and you'll be able to pick up where you left off.
In Library you can see all the content that you have rented and purchased from iTunes.
Store is where you discover and purchase new content, of course, including video services that you haven't yet subscribed to or downloaded, as well as the latest iTunes releases.
The new TV app will be installed on all of your compatible devices, and will always . stay in sync so that when you start watching on one device, you'll be able to continue watching on another from exactly where you left off. On iPhone and iPad the TV app will replace the Videos app. It will launch before the end of the year in the US, according to Tim Cook.
Sources: Apple,...

​
We here at iPhone Forums just wanted to remind you about the special event Apple is holding today. Apple is expecting to announce all new Macbook Pros, Macbook Airs, Apple TV and hopefully a surprise or two. The event is kicking off at 10:00 Pacific Time. You can catch it live here:
Apple Events - Keynote October 2016
Who's ready!?
​
Apple's new AirPods were a big surprise at this year's iPhone 7 event. The company was unable to have the wireless earphones ready by the launch of the new iPhone models, however Apple did say they would ship in 'late October'.
It looks like Apple may have some bad news according to
TechCrunch
. The company sent the online publisher a statement saying the product isn't ready yet.
If you've been waiting for Apple's AirPod wireless headphones to go on sale, you're going to have to wait a little longer. Apple says that they are not ready and they it will need 'a little more time'.
"The early response to AirPods has been incredible. We don't believe in shipping a product before it's ready, and we need a little more time before AirPods are ready for our customers," an Apple spokesperson said to TechCrunch.

There's no word whether the delay is due to a hardware or software issue. What's even more upsetting is there is no given time-frame for when they might be released.
​
After spending a few weeks with my iPhone 7 Plus, I have to say, this device is amazing. The camera works phenomenally and the added speed is very welcome. One thing that bugs me about this generation of iPhone is the lack of a redesign.
Most of use knew that Apple would be switching from a two-year to a three-year design cycle, but looking at the same design for three generations makes me miss the old days.
According to
Nikkei Asian Review
today, Apple's 2017 iPhone may include three different models. The company would release the two current size models, adding a 5-inch model to fit in the middle.
The report adds that next year's iPhones would be called the "iPhone 8", and the design would be completely overhauled. The iPhone 8 models would be sandwiched between two pieces of chemically hardened glass, held together by a metal frame.
"Apple has tentatively decided that all the 5.5-inch, 5-inch and 4.7-inch models will have glass backs, departing from metal casings adopted by current iPhones, and Biel and Lens are likely to be providing all the glass backs for the new iPhones next year."
Unfortunately, all of the above will only happen if Apple's manufacturers are able to find suppliers to fill the orders.
​
According to a new report from DigiTimes, via iDownload Blog, following Samsung's discontinuation of the exploding Galaxy Note 7, which is expected to cost the company billions of dollars, Apple has increased iPhone 7 and iPhone 7 Plus orders for the holiday quarter in a bid to get some of those previous Note 7 customers.
In fact, it seems that all smartphone makers are doing very much the same thing, and even Samsung itself has increased its fourth-quarter orders for the Galaxy S7 and Galaxy S7 Edge. And it seems that, in turn, increased demand for smartphone components from the likes of Apple and Google has led to RAM shipments to PC vendors being delayed by 10 to 20 weeks, or even more.
Source:
Note 7 recall has Apple boosting iPhone 7 orders to snatch market share from Samsung
​
iDownload Blog writes that Apple has announced financial results for its fiscal 2016 fourth quarter ended September 24, 2016, and that while the figures did meet with Wall Street's estimates, they still made hard viewing for Apple, with iPhone sales down 3 million and revenue down $4.5 billion from the year-ago quarter.
Apple gave the following guidance for its fiscal 2017 first quarter:
It's worth noting that the $76-$78 billion that Apple is expecting to earn in the holiday quarter would be an increase from $75.9 billion in the same period last year.
Sources: Apple,
Apple now has $237.6 billion and other highlights from the Q4 earnings call
​
BGR writes that the iPhone 7 Plus has once again been pitted against Google's new Pixel XL phablet, this time in a real-world speed test, and has simply blown away its rival.
The new test comes from YouTuber PhoneBuff, who has posted a video on YouTube of himself putting the two phones through their paces.
In the video, David Rahimi aims to show how well the two phones perform in real-world situations, primarily opening, switching, and closing apps. You see him opening and closing apps very quickly, and right from the start of the video you can see how well the iPhone 7 Plus performs in terms of speed, pulling out in front of the Google Pixel very early on in the test, loading the Photoshop main website much faster than the Google phablet does. He then goes on to show the iPhone 7 Plus loading games such as Flip Diver and Subway Surfers 4 seconds and 6 seconds faster respectively than the Pixel XL. The final tale of the tape is that the iPhone 7 Plus finished the speed test in 1 minute and 55 seconds, while the Pixel XL struggled to keep up, not even managing to keep all apps open, unlike the iPhone 7 Plus, which did, and eventually finishing in 3 minutes and 5 seconds. Once again, the iPhone 7 Plus proves to be the fastest smartphone around.
Source:
iPhone 7 vs. Pixel real-world speed test: The showdown we've been waiting for
Search tags for this page
apple forum
,
apple forum iphone
,
apple forums
,
apple forums iphone
,
apple iphone forum
,
forum iphone
,
iphone 6 forum
,
iphone forum
,
iphone forums
,
iphone se forum