Apple iPhone Forum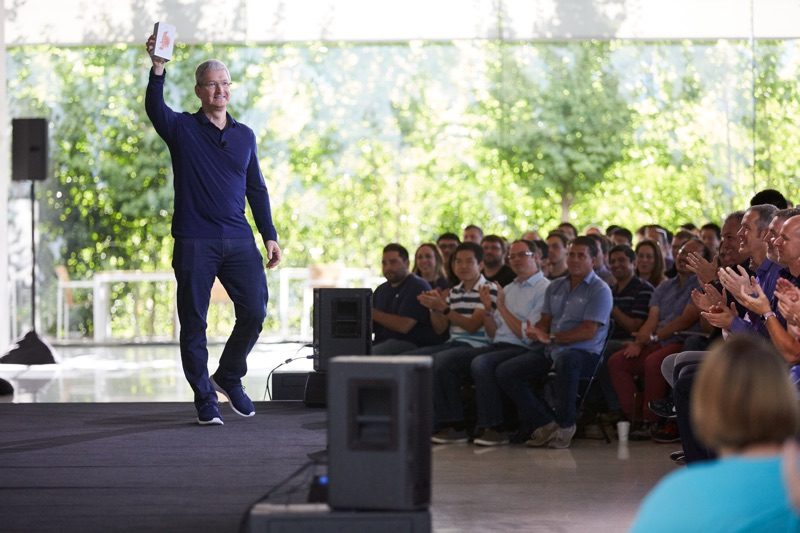 ​
In a
press release
, Apple announced that Tim Cook told employees in a staff meeting that the company has sold its 1 billionth iPhone handset. The sale happened at some point last week, however the news wasn't announced until today.
"At an employee meeting in Cupertino this morning, CEO Tim Cook announced that Apple recently sold the billionth iPhone."
"iPhone has become one of the most important, world-changing and successful products in history. It's become more than a constant companion. iPhone is truly an essential part of our daily life and enables much of what we do throughout the day," said Cook. "Last week we passed another major milestone when we sold the billionth iPhone. We never set out to make the most, but we've always set out to make the best products that make a difference. Thank you to everyone at Apple for helping change the world every day."
The news comes one day after
Apple exceeded its expectations
with Q3 figures. Though sales are still down from Q3 2015, expectations were low, most likely due to the lack of innovation in the latest iPhone 6S models.
​
Finding parking spots, especially in big cities can be difficult due to lack of space, pricing, location and other aspects. Good news is Apple Maps is now integrated with the "Wikipedia of parking", Parkopedia.
Parkopedia integration adds the ability to find view specific details about parking spots, garages, lots and more within the area. The service offers information on over 40 million parking spaces in 75 different countries.
There's no need to update Apple Maps to begin using the service, folks in North America, Europe, Asia and Latin america will begin to see the new feature instantly as it updates service-side.
To begin using Parkopedia in Apple Maps, just set a destination, then use the search field at the top and type "parking". Maps should then list all nearby parking, along with Yelp reviews, pricing, number of spaces available and more.
Source:
Parkopedia
​
Variety reports that fans of the Netflix series Narcos will soon be able to run their own international drug cartel via a mobile game based on the show, which centres around the hunt for Pablo Escobar, the Colombian drug kingpin.
The free-to-play game, entitled "Narcos: Cartel Wars," is currently being developed by the producers of the Netflix show, Gaumont Television, along with game publisher FTX Games, and is due to launch this September.
The timing of the release is specifically to tie in with the September 2 debut of Season 2 of the show on Netflix, which features Brazilian actor Wagner Moura as Pablo Escobar.
In Narcos: Cartel Wars, the player takes on the role of a fledgling cartel lieutenant who is guided by the characters from the Netflix show. As you build up your cartel, you must choose between going for raw power, earning respect through loyalty, or a little bit of both. You'll also have to form alliances with other players in order to create new cartels and wage war to gain more territory, riches, and respect.
Check out the official website to find out more about the game:
FTX Games Game Production for blockbuster media properties
Source:
'Narcos' Mobile Game Based on Netflix Show Will Let You Run Your Own Drug Cartel (EXCLUSIVE)
​
Apple's Q3 figures were better than expected, reports AppleInsider. The company posted $42.4 billion in revenue, and quarterly net income of $7.8 billion.
It was iPhone sales that helped Apple to achieve a higher result than expected, with Apple shipping 40.4 million units in total in the June quarter, which was a better result than the $42.2 billion in revenue and 40 million iPhones sold predicted by Wall Street.
Despite this slight increase, June quarter sales were down from 47.5 million iPhones one year ago, representing a decrease of 15%. Revenue was down from the year ago amount of $49.6 billion.
As far as iPad sales were concerned, the higher average selling price of the iPad Pro meant that Apple still enjoyed a 9% increase in revenue, despite seeing a 7% decrease in total sales, with just under 10 million units sold in Q3.
"We are pleased to report third quarter results that reflect stronger customer demand and business performance than we anticipated at the start of the quarter," said Apple CEO Tim Cook. "We had a very successful launch of iPhone SE and we're thrilled by customers' and developers' response to software and services we previewed at WWDC in June."
Source:
Apple's Q3 beats expectations with $42.4B in revenue, 40.4M iPhone sales
​
9to5 Mac reports on a new report from MacOtakara that makes several claims about the 2016 iPhone, which may or may not be called iPhone 7, depending on what day of the week it is!
According to MacOtakara, as previously rumoured, the iPhone 7 will have a capacitive Home button with 3D Touch support, meaning that the Home button will not be an actual physical button that you can press, but which would instead have haptic feedback, just as the newer MacBooks have with their Force Touch trackpads.
The new report also says that the Home button would be flush with the front of the phone, which, along with the removal of the headphone jack, would help to make the iPhone 7 waterproof, something that Apple has been hoping to achieve for quite some time.
And, with the Home button being one of the most likely components to fail on your iPhone, a capacitive Home button would eliminate that problem.
MacOtakara also states that there will be a new black colour option for the 2016 iPhone, which has also been mentioned in other previous rumours, were it was likened to the Space Black colour of the Apple Watch.
iPhone 7 Renders: Martin Hajek
Source:
iPhone 7 again rumored to feature Force Touch Home button, come in new Space Black option
​
If you're looking for a game that's a little more relaxing and chilled out than Pokémon Go, then Blyss, from developers Dropout Games, could be the very thing you need.
Released tomorrow, Wednesday July 27, Touch Arcade reports that the game is a simpler puzzler with calming music and visuals designed to help you achieve peace of mind.
You play the game by swiping white blocks with dots on them in order to eliminate them and clear the puzzle, all set against a calming backdrop.
Dropout Games promises lots of different game modes, as well as visual themes that come complete with their own soundtrack. It certainly seems as if Blyss hits that sweet spot of a game that is involved enough to keep you guessing, and requires a certain degree of strategic thinking, yet also has a calming vibe that can help you to relax.
Blyss can be downloaded from tomorrow, for $1.99, with no in-app purchases whatsoever.
Source:
Beautiful Puzzle Title 'Blyss' Launches on the App Store Tomorrow
​
The US National Institute for Standards and Technology (NIST) has announced that it no longer considers text messages as secure enough when used as part of a two-factor identification method (2FA).
Currently, when you opt to use 2FA on your iPhone or iPad, you can choose to have a code sent to you via SMS. That is set to no longer be the case, however, as NIST is soon to bar its use.
9to5 Mac notes that while NIST's guidelines are not enforceable by law, most companies do usually choose to obey their rulings, so that could mean that Apple will soon drop SMS authentication from its list of options for 2FA, which currently include a phone call to a trusted number, a code sent by SMS to a trusted number, or a code sent to a trusted device such as an iPad, iPhone, iPod Touch, or Mac.
Source:
Apple & others may soon be barred from using SMS for two-factor authentication
​
According to a new report from DigiTimes, via AppleInsider, Apple is looking to introduce iris ID sensors to its 2018 iPhone line-up, with eye-scanning security technology used to identify the phone's user expected to be big news over the next couple of years.
And while DigiTimes has a patchy record when it comes to rumours from Apple's supply chain, that doesn't mean that it isn't sometimes right, especially as there have previously been rumours that Apple might be planning to introduce biometric recognition technology as early as 2017, which would include both face and iris scanning. This could also tie in with other rumours stating that the 2017 iPhone will be a complete and thorough redesign, with an all-glass case and several features, such as the FaceTime camera, integrated as part of an edge-to-edge display.
Apple certainly holds plenty of patents for biometric racial recognition technology and similar features, including a patent that uses 3D rendering to improve accuracy. Apple also recently acquired Emotient, a facial recognition company, and Faceshift, a company that has designed 3D rendering technology.
Source:
Rumor: New iPhones with secure iris scanners coming in 2018
​
The incredibly successful launch of Pokémon Go around the world marches on, with the game arriving in App Stores in France and Hong Kong over the weekend, with Hong Kong being the first Asian location other than Japan to have the game.
Meanwhile, MacRumors reports that at San Diego Comic-Con over the weekend, Niantic CEO John Hanke revealed some snippets of information about what new features fans can expect in future updates for the game. It's fair to say that he didn't give all that much away, but he did reveal that we can look forward to new Pokémon, and also the ability to be able to trade Pokémon with other players.
The names of the team leaders for Team Mystic, Team Valor, and Team Instinct were also revealed as Blanche, Candela, and Spark, respectively, along with their pictures rather than the silhouettes that appear in the game (because they weren't finished in time, apparently!). Hanke said that the team leaders will soon be given a more prominent role in the game, communicating with players and offering advice.
Finally, it appears that Nintendo's recent statement that it didn't expect the massive success of Pokémon Go to have much impact on its quarterly earnings as it only has 32% of The Pokémon Company didn't go down very well at all with investors, sending Nintendo stock falling 17% at its lowest point, knocking $6.4 billion off their value, representing Nintendo's biggest decline since October 1990.
Source:
Pokémon Go Debuts in France and Hong Kong as Nintendo Shares Dive
​
Following on from this weekend's news from Evan Blass that the next iPhone would be launching the week of September 12, Blass has clarified this information by tweeting that the phone will actually go on sale on Friday, September 16.
Blass has previously gone on record as saying that the next iPhone will definitely not be called "iPhone 7," and he seems to be sticking to this with his latest tweets, where he refers to the "iPhone 2016" without giving it a specific name.
Blass is well known for the accuracy of his information, particularly where Android news is concerned, and he also has a fairly good track record when it comes to Apple news, although not 100%.
As far as what the next iPhone might actually be called if it's not going to be called the iPhone 7, 9to5 Mac writes that a new report from Apfelpage cites Chinese supply chain sources who have seen packaging and labelling for the next iPhone emblazoned with the name "iPhone 6SE."
Sources: Evan Blass, @evleaks
iPhone 7 release date reportedly set for Friday, September 16th as rumor suggests 'iPhone 6SE' naming
Search tags for this page
apple forum
,
apple forum iphone
,
apple forums
,
apple forums iphone
,
apple iphone forum
,
iphone 6 forum
,
iphone forum
,
iphone forums
,
iphone se forum
,
iphoneforum