Apple iPhone Forum
​
9to5 Mac reports that Apple has updated its iMovie for iOS app with several improvements. First of all, you can now start projects much quicker by selecting multiple images and videos, so kicking off your project creation is much easier.
Also, Facebook and Vimeo sharing support has now been added via the iOS share sheet.
As far as iPad is concerned, iMovie on iPad now supports Shared iPad, the feature that enables you to share one device with several people at once, which was a new feature introduced with iOS 9.3. So, for example, a group of students or people collaborating on an educational or business project could all work on just one iPad shared among them, but with each person's separate projects and data available on the shared iPad.
And last but not least, iMove 2.2.3 includes the obligatory general performance tweaks and bug fixes.
Source:
iMovie for iOS updated with improvements to project creation, Shared iPad support, more
​
According to Bloomberg, Apple is to launch a redesigned version of the Apple Store mobile app that will supply recommendations to customers based on their previous buying history, similar to Amazon and Google.
Bloomberg's anonymous sources said that the app is set to be updated within the next two weeks, and will include a "For You" tab that suggests products that you might like to buy based on items that you have previously purchased.
Currently there are two separate Apple Store apps for iPhone and iPad, but the new app is designed to work across both platforms with the same features and interface.
With the importance that Apple places on privacy issues, this marks quite the departure for it to be using customer data to target recommendations to users. It's certainly true that Apple's music-streaming and news apps already recommend music and stories based on a user's preferences, but they only use information that the user chooses to provide to Apple, rather than data based on the user's buying habits.
Source:
Apple Is Said to Redesign Online Store App With Recommendations
​
Blizzard Entertainment has announced a brand new Hearthstone Adventure, One Night in Karazhan, which takes players inside Medivh's tower, Karazhan. Medivh is is Azeroth's most powerful mage, and also a major party-thrower and entertainer who loves to put on lavish extravaganzas for his guests, complete with tons of food, opera performances, and much more.
However, this particular party doesn't quite go as planned for Medivh, as he goes missing in the middle of it, and the arcane objects from his collection escape and go on the rampage through the castle. It's your job, along with the help of Medivh's trusty butler, Moroes, to try and keep a lid on all the party mayhem, and also to find Medivh.
Along the way you'll also encounter many iconic characters, the enchanted chess board, and 45 new cards for your collection.
The game will be released on August 12 on iOS, as well as Windows and Mac, and Android. The four wings of One Night in Karazhan will open on a weekly basis, one per week. One Night in Karazhan will be available in the in-game shop in full for £14.99, or you can get one wing at a time for 700 gold or £4.99 each, or in discounted bundles based on the number of individual wings that you've already purchased.
When One Night in Karazhan is released, all Hearthstone players will be able to play a free prologue mission and earn two of the Adventure's new cards. And all those who purchase the full Adventure in the first week of release will get a special Karazhan-themed card back.
Visit the official website to learn more:
One Night in...
​
The adorable Moomins have been a part of people's childhoods from back in 1945, when they were created by Swedish-speaking Finnish illustrator and writer Tove Jansson. Since then they have featured in many books, comic strips and, eventually, television shows, films, and even a Moomin World theme park in Finland.
One thing missing from that list has been a Moomins video game, but Pocket Gamer reports that omission is about to be rectified with the release of iOS and Android game Moomin Quest: The Lost Winter from Odd Comet Games, which is due for release sometime between September and October this year.
The free-to-play game features Moomin and his friends, who set out on an adventure to find the Lady of the Cold to discover why winter has disappeared. Not much is known about gameplay as yet, but it seems to involve tapping fast-moving tiles if the trailer is anything to go by! The character art and settings all look lovely, so this should be a real treat for fans of the Moomins.
Source:
Moomin Quest: The Lost Winter is coming to iOS and Android sometime in the next few months
​
Bandai Namco has announced that the first ever mobile game in the Ultimate Ninja Series, Naruto Shippuden: Ultimate Ninja Blazing, will be coming to iOS and other mobile platforms sometime this summer. You can pre-register for the game from today here:
「NARUTO SHIPPUDEN: Ultimate Ninja Blazing」 Pre-registration campaign|BANDAI NAMCO Entertainment Inc.
As a bonus, if 25,000 users pre-register for the game during the pre-registration period, then all players will receive five Ninja Pearls as a gift when they download the game on its release this summer. Further goals can then be unlocked, with all users having the chance of more bonus gifts once the number of pre-registered users is reached.
The game sees players participating in epic turn-based battles to complete missions, and getting the chance to choose from a huge case of fan-favourite characters from the Naruto universe, each with their own unique attacks and skills.
In the game's story mode, players can use powerful combos, close-ranged attacks, and amazing feats of Ninjutsu during battle. The story mode is faithful to the original anime series, and can be played in either multiplayer or single-player modes.
A Phantom Castle leaderboard event will take place every month, where skilled ninjas can take on the best players around.
Source: Bandai Namco
​
Following on from recent rumours that Apple would be including a 3.5 mm to Lightning adapter with the next iPhone, MacRumors has posted some new images and a video that support this rumour.
According to website Tinhte.vn, the adaptor seen in the images came from a Foxconn factory in Vietnam. The author of the story believes that the adaptor seen in the images and videos is a genuine Apple accessory.
It has to be said, the adapter shown in the pictures actually looks pretty neat, and very similar to current adapter's sold by Apple, such as the USB-C to USB and Thunderbolt to Gigabit Ethernet adapters.
The adapter shown in the pictures here looks simply like an extension of the 3.5 mm jack, and if included for free with the new iPhone, might make people feel a little better about losing the 3.4 mm jack, which is clearly what Apple is hoping.
Source:
Possible iPhone 7 Lightning to 3.5 mm Adapter Surfaces in New Photos
​
AppleInsider reports that industry expert Evan Blass has tweeted that pre-orders for the iPhone 7 will begin on Friday, September 9, writing "Confirmed: Pre-orders start on the 9th. You can extrapolate the launch event from there." Blass had already tweeted last week that the iPhone 7 would be going on sale on Friday, September 19.
If true, this would certainly fit in with Apple's preferred timeline for release of its devices, with the company announcing the iPhone 6s on September 9, 2015, accepting first pre-orders 3 days after that, on September 12, and shipping the first phones 1 week after that. The early pre-orders were then delivered on September 25, or, in the case of some lucky individuals, a few days earlier than that.
With this timeline in mind, it's likely that Apple will be holding the iPhone 7 (and possibly other devices, such as Apple Watch) announcement event either on Tuesday September 6 or Wednesday September 7 2016. Expect invitations to be going out to the press fairly soon.
Source:
'iPhone 7' preorders rumored to kick off on Sept. 9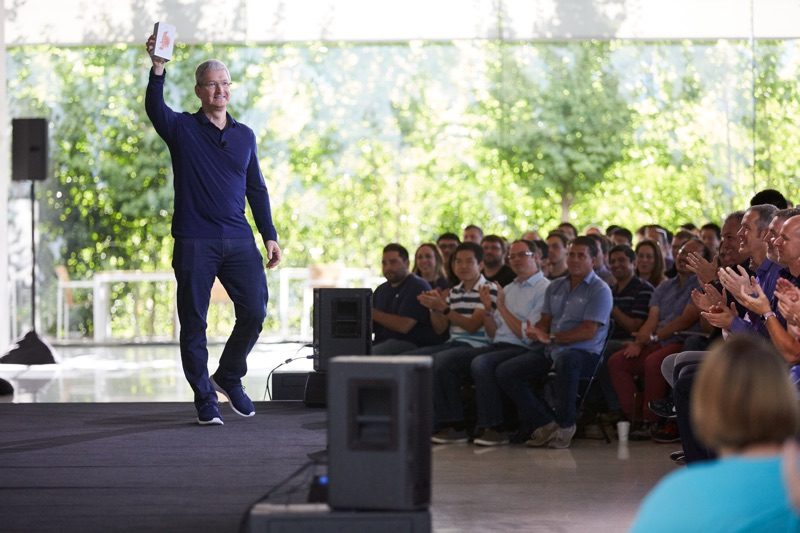 ​
In a
press release
, Apple announced that Tim Cook told employees in a staff meeting that the company has sold its 1 billionth iPhone handset. The sale happened at some point last week, however the news wasn't announced until today.
"At an employee meeting in Cupertino this morning, CEO Tim Cook announced that Apple recently sold the billionth iPhone."
"iPhone has become one of the most important, world-changing and successful products in history. It's become more than a constant companion. iPhone is truly an essential part of our daily life and enables much of what we do throughout the day," said Cook. "Last week we passed another major milestone when we sold the billionth iPhone. We never set out to make the most, but we've always set out to make the best products that make a difference. Thank you to everyone at Apple for helping change the world every day."
The news comes one day after
Apple exceeded its expectations
with Q3 figures. Though sales are still down from Q3 2015, expectations were low, most likely due to the lack of innovation in the latest iPhone 6S models.
​
Finding parking spots, especially in big cities can be difficult due to lack of space, pricing, location and other aspects. Good news is Apple Maps is now integrated with the "Wikipedia of parking", Parkopedia.
Parkopedia integration adds the ability to find view specific details about parking spots, garages, lots and more within the area. The service offers information on over 40 million parking spaces in 75 different countries.
There's no need to update Apple Maps to begin using the service, folks in North America, Europe, Asia and Latin america will begin to see the new feature instantly as it updates service-side.
To begin using Parkopedia in Apple Maps, just set a destination, then use the search field at the top and type "parking". Maps should then list all nearby parking, along with Yelp reviews, pricing, number of spaces available and more.
Source:
Parkopedia
​
Variety reports that fans of the Netflix series Narcos will soon be able to run their own international drug cartel via a mobile game based on the show, which centres around the hunt for Pablo Escobar, the Colombian drug kingpin.
The free-to-play game, entitled "Narcos: Cartel Wars," is currently being developed by the producers of the Netflix show, Gaumont Television, along with game publisher FTX Games, and is due to launch this September.
The timing of the release is specifically to tie in with the September 2 debut of Season 2 of the show on Netflix, which features Brazilian actor Wagner Moura as Pablo Escobar.
In Narcos: Cartel Wars, the player takes on the role of a fledgling cartel lieutenant who is guided by the characters from the Netflix show. As you build up your cartel, you must choose between going for raw power, earning respect through loyalty, or a little bit of both. You'll also have to form alliances with other players in order to create new cartels and wage war to gain more territory, riches, and respect.
Check out the official website to find out more about the game:
FTX Games Game Production for blockbuster media properties
Source:
'Narcos' Mobile Game Based on Netflix Show Will Let You Run Your Own Drug Cartel (EXCLUSIVE)
Search tags for this page
apple forum
,
apple forum iphone
,
apple forums
,
apple forums iphone
,
apple iphone forum
,
iphone 6 forum
,
iphone forum
,
iphone forums
,
iphone se forum
,
iphoneforum