Apple iPhone Forum
​
Earlier this month, rapper Jay-Z placed the winning bid of $54 million on Tidal, a music streaming service like Spotify and Pandora. What makes Tidal different is that it allows for higher-quality audio streaming unlike some competitors.
Now that Hova has taken over the biz, him and his team promise "first window" exclusives from artists like Madonna, Kanye West and Daft Punk.
TechCrunch
Reports that the service will also be paying its musicians twice as much as competitors. Something which has been problem for artists like Taylor Swift, who reportedly backed out of streaming her music on Spotify due to the revenue being too low.
Tidal will be holding a press conference later today to release more details regarding the relaunch of the service and more. The music streaming industry is a bit overpopulated with the aforementioned services and Apple's rumored merger of Beats Music amd iTunes Radio on iOS 8.4.
I'm a simple person who doesn't use fancy headphones and don't care about my music being .FLAC. However, there are plenty of audioholics out there that I know would be interested in something like Tidal.
​
We were impressed enough with the concept in this video that we just had to share it. A crafty YouTube blogger named
AndroidGameE
created a speedtest which is designed to showcase real-world performance instead of the typical number crunching benchmarks. It does this by leveraging opening and closing a number of real-world apps during a timed test. While it would be easy to poke holes in the methodology, it is still a remarkably simple way to help gauge what the user experience might be like.
Even better is that we get to see this "real world benchmark" demonstrated with a titanic battle between the ultra-popular iPhone 6 and the hot new Samsung Galaxy S6 Edge. Throughout most of the tests, the Galaxy S6 Edge tends to handle things faster and smoother than the iPhone 6, but in the end, the final "timed difference" wasn't that huge, and the iPhone 6 nearly catches up with the Galaxy S6 Edge. Check out the video and let us know what you think.
​
Good news for owners of other types of mobile phone such as BlackBerry, Android, or Windows Phone who are looking to make the switch to iPhone, with AppleInsider reporting that Apple has now started to accept trade-ins with non-iPhone handsets in Europe and the US.
As a part of Apple's extended reuse and recycle program, owners of recent Sony, Samsung, Nokia, BlackBerry, HTC or LG phones can now exchange their handset for Apple Store credit.
If you want to make use of the offer, simply take your eligible smartphone along to an Apple Store, or alternatively kick off the process by completing the required forms online.
AppleInsider notes that this is the latest in a series of moves by Apple designed to entice Android owners in particular to switch over to the iPhone from their current handset. To this end, Apple also recently launched an Android-to-iOS migration guide that saw the highest Android switch rate for the iPhone 6 and iPhone 6 Plus of any iPhone in the past three years.
AppleInsider reports that the scheme is currently available in the US, UK, Italy, and France.
Apple begins accepting non-iPhone trade-ins in the US Europe
​
AppleInsider reports today that some new images have leaked that appear to show parts for one of the next iPhone models, which could include parts from the iPhone 5s.
In the original report from Future Supplier, the plastic case shown in the photos is referred to as being from an "iPhone 6c." What's most noticeable about the pictures is that the case appears to show a 4-inch iPhone case with the pill-shaped camera flash current used in the iPhone 5s for its True Tone flash unit.
If the photos are genuine, they could indicate that Apple intends to use parts from the iPhone 5s to produce an iPhone 6c model, much the same as it did with the iPhone 5c, which contained many iPhone 5 parts.
AppleInsider notes that the pictures also show that the speaker and microphone holes at the bottom of the iPhone 6c case are in two rows, just as with the iPhone 5s and unlike the current iPhone 5c, which has just one row of speaker and microphone holes.
Source:
Alleged iPhone 6c rear shell suggests Apple will repackage iPhone 5s parts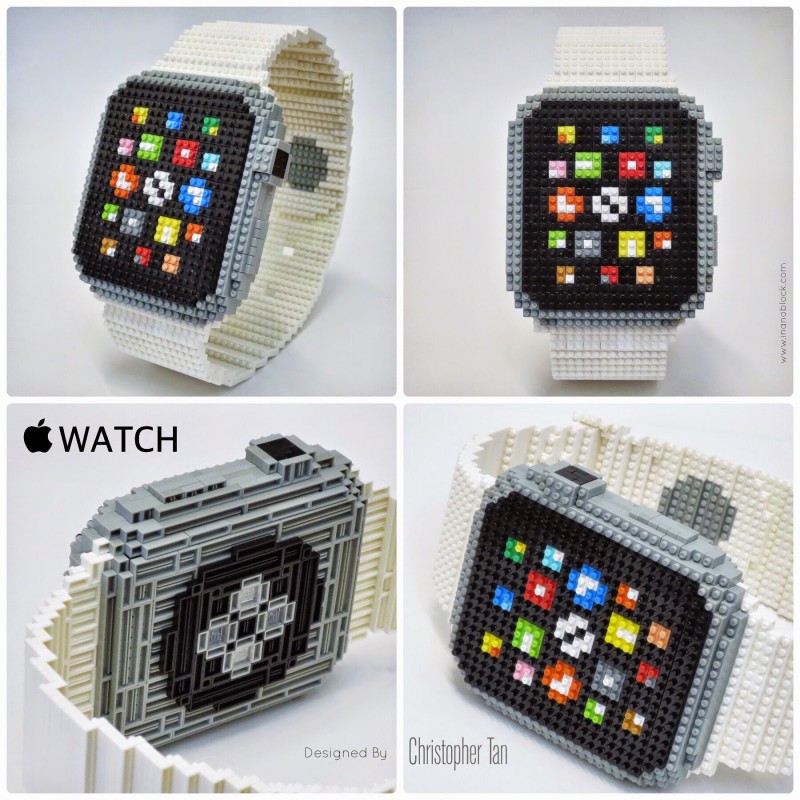 ​
If there are any giants out there weeping because the Apple Watch won't fit your wrist, here's something that might help you fit in with us normal-sized folks. Christopher Tan is a Japanese Nanoblock artist, who built this pretty neat Apple Watch sculpture, before the release next month.
The Nanoblock recreation is a 2.6x scale model of the original 42mm Apple Watch. The sculpture consists of around 800 Nanoblock pieces, a building block product popular in Japan. Tan notes that he is "eagerly anticipating the Apple Watch" and has "been a long-time Apple fan".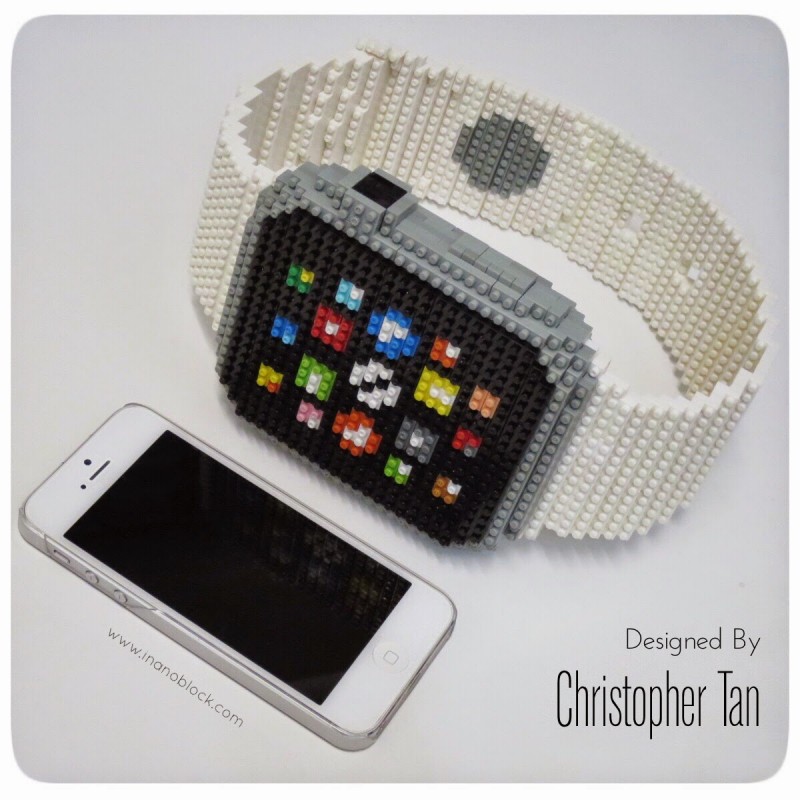 ​
This however isn't the first Apple-related Nanoblock product Tan has created. Last year Tan showed off a recreation of the
Fifth Avenue Apple Store
, consisting of 2,000 blocks and the iconic glass cube. You can find the rest of Tan's Nanoblock creations on his
blog
.
​
Disregarding things like putting cases onto an iPhone, the Apple Watch will arguably be Apple's most customizable device. When the device arrives on April 24, the Apple Watch will be available in aluminum, stainless steel, gold and will have an assortment of watchbands to go with. The company will be offering in-store previews and Try-On appointments, however previewers won't be able to try on different watchbands during the sessions.
The report comes from some Apple employee training documents acquired by
MacRumors
. The documents state that Apple employees "will not size links or swap band". The appointments are only meant to last about 5-15 minutes so Apple is looking to save time.
All is not lost for folks wanting to change out the stock watchband. Apparently Apple will have 18 different Apple Watch combinations at Try-On tables and 10 combinations at their cases. Apple Watch pre-sales begin on April 10.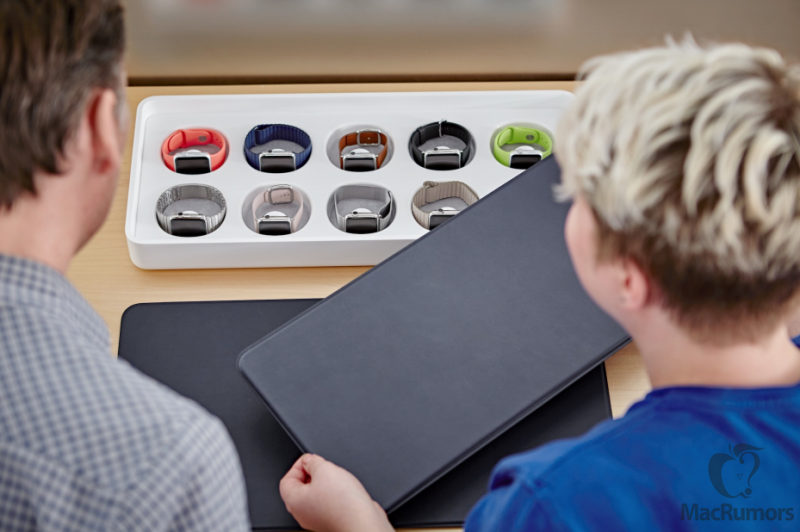 ​
As the month of March is coming to an end, the launch of the Apple Watch is getting closer and closer. Earlier this month Apple set the release date for the Apple Watch on April 24, with pre-orders beginning to take place April 10. If you were planning on walking into an Apple Store and picking one up instead of pre-ordering, it might take a bit longer to get one in your possession.
MacRumors
acquired training documents for Apple Store employees showing how the in-store purchasing process will go down. The document reads that customers will need to make appointments to purchase an Apple Watch in-store. If a customer were to just walk in, an Apple employee would offer to let him or her try on a watch and help make an appointment to purchase one.
Remember that this only goes for in-store sales. Folks pre-ordering the device will get it by mail without the hassle of making an appointment. Apple seems to want one-on-one contact with people to help them get familiar with the device. It also looks like Apple will have low stock of the Watch during the first wave and will need to moderate sales. Either way, pre-ordering seems like a better idea.
​
Target wants to make sure that Apple Watch will pick their stores when going shopping, as the retail company has updated its iOS app with official support for the Apple Watch. The device goes on pre-order on April 10 and will hit store shelves two weeks later, but Target wants to make sure that it stays ahead of the competition. Here's what Target said regarding the update:
"Make your next trip more efficient and even a little more fun. The Target app makes it easy to build a shopping list on your Apple Watch. When you're in the store, it tells you where to find all of the items you need"
And now let's have a look at the new features of the updated app:
• Add items to your list, including quantity, and check them off as you shop.
• See aisle locations for your store or ask where to find any item.
• Check the glance to see when your store is open, how many items are on your list, and how many have deals available.
Source:
iTunes
​
Vine has finally decided that its 5-second looping clips deserve to be upgraded to 720p instead of the previous 480p standard. Speaking on the official blog of the company, Mike Kaplinskiy said the following:
"We've been working on technical upgrades that support Vines in higher quality. If you have an iPhone, the posts you create and upload will support our new high quality format."
The new 720p format offers a resolution of 1,280-by-720 pixels, which is a serious improvement over the 480p standard of 640-by-480 pixels. Thus, with three times more pixels, 720p Vines videos are sharper and less fuzzy.
You can also use your iPhone's front-facing FaceTime HD-ready camera to share your 720p videos on Vine; however, it may be important to note that 720p video also produces bigger files. Regardless, your Vines will look much better now.
Source:
Vine
​
MacRumors reports on two in-depth Apple Watch previews from Citymapper and Transit apps that give a great insight into how well-known iOS apps are adapting to the smaller interface of the Apple Watch. Both previews appeared on Medium.
Starting with Citymapper, this app is already a personal favourite of mine on iOS for the way in which it helps to route every step of your journey in a city, including simply being able to ask the app to "Get Me Home," so it's really interesting to see how that resourcefulness has been adapted to the confines of the Apple Watch.
Citymapper said that it noticed that its iOS app users were frequently turning their phones on and off during a trip as they moved around various different means of transit, and this was something they thought about when creating the watch app.
"This is the nature of transit information when you move across the city. You need snippets of information. Different things at different times, depending on where you are along the way.
"Transit info works well on a device that focuses attention on one thing at a time. And when the transaction costs (ie hassle) of getting additional information is low (raise your wrist and swipe). Using a wearable app may also be safer. City dwellers are generally walking too fast, crossing streets, using stairs, jostling through crowds."
Citymapper says that when you use Glances with its Apple Watch app it will show you "how messed up your city is," providing you with stalled bus and train schedules in your vicinity. And one feature that could be particularly useful is being able to wrist-tap to find out when you need to get off your bus or train in an unfamiliar area.
As far as Transit App is concerned, MacRumors says that it will be more of a straightforward list of departure times and directions, with a "Take Me Home" button ever-present for when you get lost.
"With Transit App for Apple Watch…no matter where you are, you will have instant access to...
Search tags for this page
apple forum
,
apple forum iphone
,
apple forum iphone 6
,
apple forums
,
apple forums iphone
,
apple iphone 6 forum
,
apple iphone forum
,
iphone 6 forum
,
iphone forum
,
iphone forums