Apple iPhone Forum
​
AppleInsider reports on a new tip from well-sourced blogger Evan Blass, who tweeted that Apple will be announcing the next iPhone at a special event that is due to take place in the week of September 12.
Blass is usually a highly credible source for smartphone release information due to his strong connections in the industry. It's a pretty safe bet that Apple intends to stick with its recent schedule of announcing and releasing new iPhones in September.
Blass also tweeted earlier in the week that there will only be two iPhone versions released in September, not the three that have been recently rumoured. He said that they currently have the codenames "Sonora" and "Dos Palos," named after towns in California. Previously, Blass has said that it is highly doubtful that the new iPhone will be called iPhone 7; he has not yet stated if one of the two new iPhones that he thinks Apple will announce in September will be an iPhone Plus or an iPhone Pro (with the latter being rumoured in recent weeks).
Meanwhile, 9to5 Mac reports that more iPhone 7 videos and images have leaked, this time focusing on the dual camera and comparing the Rose Gold iPhone 7 with the iPhone 6s.
Sources:
Apple rumored to launch 'iPhone 7' on week of Sept. 12
Latest iPhone 7 leaks highlights new dual camera, video compares Rose Gold iPhone 7 to iPhone 6s
​
Whistleblower Edward Snowden has been involved in the design of an iPhone 6 case that is able to detect when the phone is still transmitting data in Airplane Mode.
Hacker and Bunnie Studios founder Andrew "Bunnie" Huang announced the project yesterday, writes MacRumors. Huang is perhaps best known for being the first person to hack the Xbox and for mounting a legal challenge to the DCMA act.
A paper entitled "Against the Law: Countering Lawful Abuses of Digital Surveillance" describes the concept for the case, explaining that it has been designed in order to prevent journalists, activists, and rights workers from being tracked by governments.
The case has probe wires that use the SIM slot to access the phone antennae and monitor signal transmission. An audible alarm and display on the front of the case will keep the user informed of the phone's transmission status.
Snowdon and Huang say that using Airplane Mode on a phone is "no defense" for radio transmission, which many may not be aware of.
Image credit: Huang & Snowden
Source:
Edward Snowden Designed an iPhone Case to Guard Against Radio Snitching
​
MacRumors reports that the results are in from FutureBrand's 2016 World's Favourite Companies survey, and Apple is once again victorious, wrestling the top spot once more from last year's victors, Google.
FutureBrand asked 3,000 consumers several questions about the 100 biggest companies around the world, with the respondents required to give each company marks for 18 different factors, such as trust, innovation, individuality, people, resource management, and price premium.
FutureBrand said that Apple performed particularly well "in terms of perception strength, rather than financial strength," and that it also scored high marks for its individuality, authenticity, and purpose. Areas in which Apple scored less highly include resource management, wellbeing, and respect.
​
Microsoft came second behind Apple, with Apple being slightly ahead in terms of personality and consistency, but Microsoft scored slightly higher than Apple in terms of innovation.
Other high-ranking companies beaten by Apple in the survey include Disney, Amazon, Samsung (which placed third), Toyota, and Facebook.
In the Technology Sector in particular, Apple performed even more impressively than in the overall survey, scoring 36 percent above the sector average for thought leadership and 33 percent above the sector average for consistency in producing high quality products. Thirty-seven percent above the sector average said that they would like to work for Apple, and 39 percent above sector average said that they would like to buy its products.
Source:
Apple Takes Top Spot in FutureBrand's Ranking of World's Favorite Companies
Apple MacBook Pro MJLT2LL/A 15.4" Laptop with Retina Display 2.5 GHz...
​
Planet of Heroes is a new mobile-focused MOBA currently in development at Fast Forward Studio, which is a newly formed internal game development team from international multimedia company My.com.
Planet of Heroes is being built from the ground up specifically for mobile devices, with the aim of capturing everything that is so awesome about MOBAs on PC, but at the same time capitalising on the strength of the mobile gaming platform.
A closed beta will be starting this summer, with the game scheduled for release at the end of 2016.
The Planet of Heroes storyline focuses around the Devourer, a galactic entity of great power that is sleeping deep in the bowels of the Ritual Planet, imprisoned by the Forerunners. Should the Devourer awaken from its slumber, disaster for the galaxy looms. Unfortunately it is already stirring, and close to being roused. In order to keep it sleeping, it must be fed with primal emotions—rage, bloodlust, and the thrill of victory. An arena is built on Ritual Planet to keep the Devourer fed, and an Order of Heroes is created from soldiers, rebels, poets, criminals, and scientists, and tasked with battling eternally to keep the Devourer from waking.
As you might imagine, creating a MOBA for the mobile platform from the ground up is a Herculean task, hence Fast Forward has assembled a dream team advisory "council" comprising streamers, gamers, and eSports personalities who will be consulted on game design issues. These include Cowsep, a MOBA expert and well-know Twitch personality, who has already had a big input in the development of the game.
​
George: Scared of the Dark is a really sweet side-scrolling platform game from one-man studio Wall West. The player gets to help George the Ghost confront his fears across 10 procedurally generated levels as you guide him to the lighthouse and reveal the mystery of who lives in the small cottage in order to help him regain his courage.
The game looks really cute, especially if you're a fan of old-school platform games, but it doesn't have an easy mode, and is very challenging to play.
Here are some of the game's key features:
The game costs $1.99, and while it is only available for iPhone, it can be installed on iPad in compatibility mode.
Click here to download:
George: Scared Of The Dark on the App Store
Source: Wall West
​
Mashable reports that the popular writing app Scrivener has finally arrived on iOS. Scrivener first appeared on Mac in 2007, and won praise from fiction and non-fiction writers alike for the way in which it enabled them to do many different tasks, including organizing chapters, research material, and word processing, all within the same program. Since then, there have been many calls for an iOS version of Scrivener, but it never seemed to happen, until now, that is.
One of Scrivener's rivals, Ulysses, released its own iPad version last year, stealing a march on Scrivener and attracting many users who had grown tired of waiting for Scrivener on iOS.
Now those who remained loyal to Scrivener have been rewarded with the release of the iOS app, which Mashable is very impressed with, stating that it is "a near-perfect mirror of the desktop version."
Possibly in a bid to win back those users who had defected to Ulysses, the Scrivener app costs $19.99, while Ulysses costs slightly more ($24.99). The Scrivener app also has the upper hand in terms of being available for both iPhone and iPad. Features of the Scrivener iOS app include pinch to zoom and shrink documents, importing of research documents and media files, and also many of the options such as Word, Final Draft, Plain Text and PDF, which are already available in the desktop version.
One important thing that it lacks, however, is iCloud compatibility, so you'll have to use Dropbox to sync documents. This is one area where Ulysses still has the upper hand.
Here's what the makers of the app, Literature and Latte, had to say about the long wait for an iOS version:
Click here to download:...
​
Another video has surfaced today featuring mock-ups of the forthcoming iPhone 7 in three different colours: Rose Gold, Gold, and what is referred to as "Space Black."
MacRumors reports that the video first appeared on the ConceptsiPhone YouTube channel. It reveals very little in terms of new information about the next iPhone, with the pictured protruding camera, antenna bands at the top and bottom of the phone, and lack of headphone jack all being very familiar by now. However, this is possibly the first image of a "Space Black" phone.
Back in June, rumours first started to emerge of a darker version of the Space Gray colour, which was referred to by one source as "close to black, though not quite black." The new, darker shade was also said to be more akin to the "space black" of the stainless steel Apple Watch rather than the lighter "space gray aluminum Apple Watch Sport.
The June rumours about a new Space Black colour variant diminished in recent weeks following other leaked images that were claimed to be of the next iPhone, and that showed the same four colour versions as the iPhone 6s and 6s Plus models, with no Space Black in sight.
Now, however, this new video has thrown up the Space Black rumour once again. There's no way of knowing how credible the video is, but the Space Black colour certainly looks smart!
Source:
Video Depicts iPhone 7 Mockups in Gold, Rose Gold, and 'Space Black'
​
Telltale has announced that the worldwide digital release date for the first of five episodes of Batman—The Telltale Series will be August 2. Episode 1 is entitled "Realm of Shadows." The series will also be available to purchase at retailers from September 13 in North America as a special Season Pass Disc, including the first of five episodes, and access to the remaining four episodes when they become available for download via online updates. The series will be available at retailers in Europe on September 16.
Telltale's vision of Batman has been designed to look like a living, breathing comic book, and has an award-winning cast, including Troy Baker as Bruce Wayne, Travis Willingham as Harvey Dent, Erin Yvette as Vicki Vale, Enn Reitel as Alfred Pennyworth, Murphy Guyer as Lieutenant James Gordon, Richard McGonagle as Carmine Falcone, and Laura Bailey as Selina Kyle. Expect more cast and character details to be announced as the season progresses.
Source: Telltale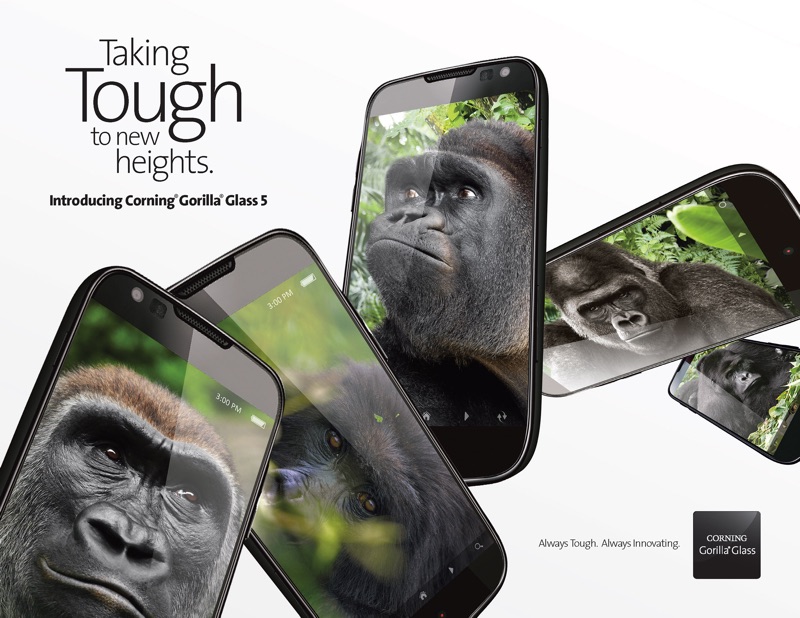 ​
On Wednesday, Corning
revealed
the next generation of Gorilla Glass, Gorilla Glass 5. The glass maker has been a huge contributor to Apple's iOS product line and promises an even stronger glass this time around.
According to Corning, Gorilla Glass 5 survives fall 80 percent of the time when dropped face-down from 1.6 meters. The company adds that the new product has a survival drop rate four time more than competitors.
"With each successive generation of Corning Gorilla Glass, we have taken cover glass technology to new levels. Gorilla Glass 5 is no exception, extending Corning's advantage in drop performance over competitive glasses," said John Bayne, vice president and general manager, Corning Gorilla Glass. "With many real-world drops occurring from between waist and shoulder height, we knew improving drop performance would be an important and necessary advancement."
While we still don't have the full details on this year's iPhone 7, some rumors have been flying around that Apple and Corning will make the push to package Gorilla Glass 5 with the device. Since Corning is Apple's goto choice, if we don't see it on this year's iPhone, you can almost be certain we'll see it on the iPhone 8.
​
Social network giant announced on Wednesday that it will be opening up its "verified badge" system to the masses. Previously only available to celebrities and social network influencers, the blue verified badge can now be applied for using
this form
, but there's catch...
"If the account represents a person, we want to understand their impact in their field," notes Twitter. If one chooses URLs to support their request, the firm ask folks to choose references that "help express the account holder's newsworthiness or relevancy in their field."
Along with an explanation on why you think you should be verified, Twitter may ask you to scan and upload a government issued ID or passport, for more verification. Folks over at Twitter will look over the application and send a confirmation via email. If denied, users can submitted another request after 30 days.
Search tags for this page
apple forum
,
apple forum iphone
,
apple forums
,
apple forums iphone
,
apple iphone forum
,
iphone 6 forum
,
iphone forum
,
iphone forums
,
iphone se forum
,
iphoneforum