Apple iPhone Forum
​
Twitter for iPhone and iPad has today added livestreaming broadcasts directly from the app, a result of Twitter's acquisition of Periscope back in 2013, writes 9to5 Mac.
It's pretty simple to use, all you have to do is compose a Tweet and then look for the new "Live" button, which will be rolling out to Twitter users everywhere from today. Tap the button to arrive at the pre-broadcast stream, then frame your shot and when you're finally ready, press "Go Live" and you'll be broadcasting live on Twitter.
The live steam is in fact a Periscope stream, so the content that you're broadcasting will actually be viewable on both Periscope and Twitter, but you don't have to have Periscope installed in order to be able to stream, or watch, the Twitter live videos.
During your live broadcast, viewers will be able to post comments and also send hearts to the streamer to show that they like what they're seeing.
Sources:
https://9to5mac.com/2016/12/14/twit...oadcasting-video-from-the-compose-tweet-view/
https://blog.twitter.com/2016/go-live-on-twitter
​
MacRumors reports that Apple's iPhone 7 has come top of the Tech List in Google's "Year in Search" results, which it has published today. The lists reveal the most popular search topics of the year in various categories. Apple products appeared four times in the Consumer Tech category, with the iPhone 7 at the top of the list, with Apple's iPhone SE, iPhone 6s, and iPhone 7 Plus all featured.
Last year it was the iPhone 6s that topped the Tech List, and the Apple Watch was in third place, but this year the Apple Watch doesn't feature in the searches at all.
As far as the Overall search category is concerned, Pokémon Go placed first, a testament to the huge popularity of the game worldwide. The iPhone 7 was just behind Pokémon Go at number 2, with no other Apple products featuring in the Overall search category. Deadpool, the Olympics, Slither.io, Prince, and David Bowie were among the other most popular Overall search terms of the year.
Source:
http://www.macrumors.com/2016/12/14/iphone-7-google-year-in-search/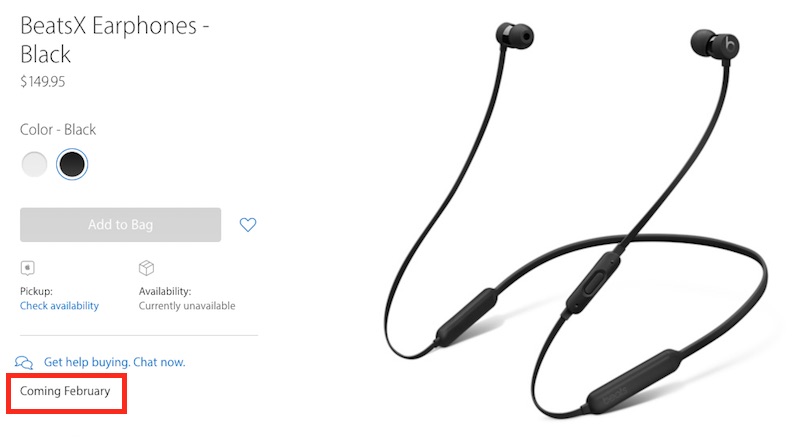 ​
Following the
delayed release
of Apple's AirPods wireless headphones, our favorite fruit company updated its store page for its
BeatsX Earphones
today. The long-await earphones are now listed as "Coming February", currently without the ability to pre-order.
BeatsX use the same Apple W1 chip as the company's EarPods, allowing users the pair with an iPhone just by turning on the earphones near the device. Unlike the AirPods, BeatsX are tethered together using a Flex-Form cable, making them more difficult to lose or fall to the floor.
BeatsX hold up to 8 hours of battery life and use Fast-Fuel technology, which can give users 2 hours of playback with a 5 minute charge. The earphones also include a remote and mic, adding the ability to answer calls, control music, and activate Siri.
What's nice is BeatsX Earphones are just $10 less than the EarPods. So if you feel you might have the tendency to lose one of the EarPods, or just don't want to deal with the hassle, BeatsX might be a good alternative.

​
Looking for some last-minute gifts for the holidays? Apple is now offering two popular Beats products at a limited, discounted price.
The
Beats Pill+ Portable Speaker
(regularly $230) is now being sold at a discounted price of $199 and available in White, Red, and Black. Apple's
Beats EP On-Ear Headphones
are also discounted by the same amount. Normally $130, Beats EP can be purchases for $100 for a limited time in Blue, White, Black, and Red.
While knocking off $30 off the price tag is nice, third-party retailers like Amazon and Walmart sell both of these products for $200 and $100 respectively. After the delay fiasco with its AirPods, Apple is going to have to step it up this holiday season.
​
9to5 Mac reports on new headphones that have just been launched by Bose that are designed to hel you hear better in noisy environments. Bose's Hearphones look like the company's QC30 earphones, but come complete with directional microphones that help you to listen selectively, filtering out background noise and honing in on your conversation.
"Focus, amplify or reduce real-world sounds to the level you want," proclaims Bose of the earphones. "Active Noise Reduction improves the listening comfort of conversations and takes the edge off the background noise."
A special iOS app, Bose Hear, is designed to work in conjunction with the Hearphones and lets you customize the sound and also configure presets for a variety of different environments. The Hearphones can also be used as basic noise-cancelling headphones.
You can't buy Hearphones just yet, but you can sign up for a chance to attend one of Bose's "exclusive events" in Framingham, near Boston by signing up here:
http://hearphones.bose.com/
Source:
https://9to5mac.com/2016/12/12/bose-hearphones-hearing-aid-earphones/
​
9to5 Mac reports that Snapchat and Shazam have announced that Shazam's music-recognising feature has now been added to the Snapchat camera screen, enabling you to discover new songs and even send a song to your friends as a Snap. Simply press and hold on the Snapchat camera screen when you hear music playing nearby, and then learn more about the song and artist, if you wish, or recommend it to a friend.
Snapchat also announced today the arrival of a new group chat feature that is designed to help families keep in touch with each other over the holiday season. Up to 16 people can participate in the group message, and each will be deleted after 24 hours, just like a normal Snapchat story.
Snapchat also added two new Creative Tools today that enable you to create stickers from your own Snaps. Snapchat says that the new Paintbrush tool that you can find in the Memories section of Snapchat "turns a Snap into an artistic masterpiece."
Source:
http://www.macrumors.com/2016/12/13/snapchat-shazam-integration/
​
As 9to5 Mac reports, Apple's AirPods finally became available to buy from the Apple Online store today, priced at $159 and with an initial delivery date of Monday December 19. However, as predicted by Daring Fireball's John Gruber yesterday, no sooner had they gone on sale than they were no longer available for delivery before Christmas, with mid-January now the earliest availability. According to another 9to5 Mac report, with AirPods now scarce, people are already putting them up for sale on eBay for exorbitant prices, with one scalper asking for $1,590.00 "or nearest offer" for a pair of AirPods.
However, if you can bear to wait a little longer, 9to5 Mac says that Apple has announced that "Apple Stores, Apple Authorized Resellers, and select carriers" will be receiving "regular shipments" sometime next week.
With AirPods still so scarce, now would have been the perfect time for Apple's new BeatsX earphones to be released, but unfortunately the company has just announced that their release has been pushed back until February 2017.
Sources:
https://9to5mac.com/2016/12/13/airp...m-apple-online-store-delivers-by-december-22/
https://9to5mac.com/2016/12/13/apple-airpods-already-on-ebay-highest-asking-price-hits-1590/
https://9to5mac.com/2016/12/13/airpods-availability-2017/
​
Following the
release of iOS 10.2
for iPhone, iPod Touch and iPad, watchOS 3.1.1 is now available to all Apple Watch users. The new update is available for Apple Watch, Apple Watch Series 1, as well as Apple Watch Series 2, so nobody gets let behind.
watchOS 3.1.1 is an arguably minor update to the wrist-worn operating system. The new update adds some bug fixes and performance improvements behind the scenes, but also adds support for the new Unicode 9.0 emoji.
Unicode 9.0 adds over 100 new emoji to Apple Watch such as; clown face, selfie, face palm, fox face, own, shark, butterfly, avocado, and many more. A new feature was also added to allow for swapping out skin tones on the Watch on select emoji.
Folks can update to watchOS 3.1.1 by going to
Watch > My Watch > General > Software Update
. Check out the reply for the full changelog below.
​
After nearly two months of beta testing, Apple has finally released the final build of iOS 10.2 to the masses. The latest build of Apple's mobile operating system is now available via Over-The-Air and iTunes update for iPhone, iPod Touch, and iPad.
The new firmware comes packed with three new wallpapers, options to preserve camera settings, the new TV app, the Emergency SOS feature, two new screen effects for messages, new music sorting options, and more.
Some might argue that the most important addition to iOS 10.2 are the 100+ new emoji available. Mobile users can now choose from the likes of; clown face, selfie, face palm, fox face, own, shark, butterfly, avocado, and many more.
The easiest way to download the update is via Over-The-Air by going to
Settings > General > Software Update
. Check out the reply for a full changelog from Apple.
​
AppleInsider reports that multiple Apple retail sources are indicating that Apple's AirPods might not miss the all-important holiday season after all, but stocks may be so limited that the AirPods become unavailable again almost immediately after release.
Daring Fireball's John Gruber says that he has heard from multiple sources that the AirPods would be released just in time for the holiday season, but that quantities would be limited.
Despite Gruber not sounding that confident in some of his sources, what he says ties in with AppleInsider's own sources that told the website back in November that there was "no way" that Apple would miss the holiday season release window for the AirPods.
Source:
http://appleinsider.com/articles/16...apples-airpods-will-see-pre-christmas-release