Apple iPhone Forum
​
According to a new report from The Korea Herald, via MacRumors, not just some, but all of the OLED displays of the forthcoming iPhone 8 will be curved. The Korea Herald's source said "Apple ordered all plastic OLED—not glass—from Samsung Display." The source went on to say that Samsung is able to supply Apple with just under 100 million curved OLED display units.
Plastic OLED has been used to make curved displays for phones such as the Samsung Galaxy S7 Edge, with glass OLED being used to make flat panel displays.
Although it has just been reported that Apple and LG Display have teamed up to produce foldable OLED displays, The Korea Times source says that the iPhone 8 will not be foldable. This ties in with the previous foldable display report, which stated that LG Display would not start mass- producing folding OLED displays until 2018.
Interestingly, the same source also says that the iPhone 8 "may use new sensing technology, which enables the phone to respond when users touch any side of the device. But, Apple may not adopt this technology."
Source:
http://www.macrumors.com/2016/12/18/oled-iphone-8-curved-display-and-touch-technology/
​
According to a new report from Korean website etnews, via 9to5 Mac, LG Display has teamed up with Apple, Microsoft, and Google to mass-produce folding OLED displays. etnews says that the three companies are among the first to order supplies of the new displays, which will enter mass production in 2018. The report says that it is expected that LG Display and Samsung will be the two main producers of folding displays, but whereas Samsung Display is working with its own Samsung Electronics Wireless Business Department, LG Display is partnering with companies such as the three aforementioned giants.
LG Display has apparently already developed and produced a foldable panel prototype of a "significantly high" technical level, which was shown at CES 2013 (pictured). etnews says that while Samsung has been very vocal about its intentions to develop folding displays, even going so far as to distribute a concept video of a folding smartphone, LG Display and LG Electronics have been flying under the radar somewhat as far as their work on folding displays is concerned, mainly due to the relative lack of success of their smartphone manufacturing business compared with that of Samsung.
Source:
https://9to5mac.com/2016/12/16/lg-display-apple-google-foldable-oled-iphone/
​
Apple's Campus 2 has been under construction since 2014, ever since then we've been following the constant progress photos and drone videos which have been uploaded by numerous users.
This week, YouTubers Matthew Roberts and Duncan Sinfield share a compilation of the drone shots they've been taking of the iSpaceship over the last six months.
The breathtaking 4K video shows how far the development of Campus 2 has come along and how huge of a feat this is for the company. While the Cupertino campus won't be fully completed until next year, the round build has taken shape and looks stunning.
Check out the fully video in the reply below.
​
This week Apple released two new Apple Watch ads just in time for some late holiday shopping. The two ads, titled "Go Surf" and "Go Ride", follow the company's theme for using the Apple Watch to become more active.
Both ads are incredibly short, clocking in at only 10 seconds a piece. Go Surf includes quick shots of some surfers using the Apple Watch in the ocean, showing off the Apple Watch Series 2 waterproof capabilities. Go Ride wants folks to "Get moving with Apple Watch", showing a few bikers getting active and communicating with each other on the device.
Check out the two new ads in the reply below.
​
MacRumors reports that Apple Retail stores will be selling AirPods in store from Monday, December 19, according to their sources. Apparently the product is already on its way to the stores now. Carrier stores and Apple Authorized Resellers will also be getting stock, and Apple has said that shipments for all of the above will be ongoing and regular from now on.
This will be your only other chance to buy AirPods before the holidays, as current shipping estimates for online orders are at least six weeks.
It's expected that those people who managed to get in quickly and order their AirPods before they sold out will be receiving them at the beginning of next week.
MacRumors also reports that Apple has just revealed that should your AirPods need repairing after their 1-year warranty expires, it will cost you a flat fee of $69. Also, out-of-warranty battery service for AirPods that lose their battery capacity will be $49. Replacing a damaged or lost AirPod or charging case will incur a flat fee of $69, whether or not the AirPods are still within their warranty period.
Sources:
http://www.macrumors.com/2016/12/15/airpods-in-stores-monday-december-19/
http://www.macrumors.com/2016/12/15/apple-airpod-replacement-fees/
​
Just as expected, Super Mario Run raced to the top of the Top Grossing and Top Free app charts quicker than Mario runs up a flagpole, with AppleInsider reporting that demand for the app was so strong at launch that it even crashed the App Store for a short time.
However, as much fun as the game is to play, that doesn't mean that there hasn't been a variety of complaints following its release, including those who say that it is too expensive to unlock the whole game, or doesn't take long enough to complete.
Possibly one of the biggest complaints is the fact that the game's always-on internet connection uses up lots and lots of data. However, this might only be a temporary problem, as AppleInsider reports that due to overloaded servers, some users were finding that the app kept trying to re-download itself, thus bumping up the usual data usage up to around 150 megabytes per hour rather than the average (and still very high!) 75 megabytes of data. In contrast, Pokémon Go uses up on average 30 megabytes per hour.
"The game is chatty," engineering sources in the App Store told AppleInsider. "Nintendo's doing a lot of fat-packet data shuffling back-and-forth to its own back-end, and if a packet fails, it'll keep trying for a bit until it gives up and errors out. This is all data use."
Sources:
http://appleinsider.com/articles/16...e-from-persistent-internet-in-super-mario-run
http://appleinsider.com/articles/16...t-grossing-free-app-charts-hours-after-launch
http://appleinsider.com/articles/16...r-mario-run-service-unavailable-to-some-users
​
According to a report from MacRumors, the possibility that Apple could be developing wireless charging technology ready for the next iPhone just became a little more likely with the news that Apple supplier Dialog Semiconductor has just invested $10 in wireless charging company Energous.
In the original report from Fast Company, a source said that up to three quarters of Dialog's business is with Apple.
Energous CEO Steve Rizzone told Fast Company that the results of the new deal between the two companies are far reaching.
"We're actually transferring all of our silicon operations to Dialog. All the Energous technology will be sold under the Dialog branding and all sales orders will be going through Dialog. It'll take us about 90 days to do all that."
While not confirming anything at all, it's certainly fair to say that this news just adds fuel to the already well-stoked fire that Energous and Apple are working together on developing a wireless charging system for the iPhone, with KGI Securities analyst stating recently that at least one of the 2017 iPhone models will have wireless charging capabilities.
Sources:
http://www.macrumors.com/2016/12/14/energous-apple-supplier-dialog-partnership/
https://www.fastcompany.com/3066590...gous-is-teaming-up-with-apple-supplier-dialog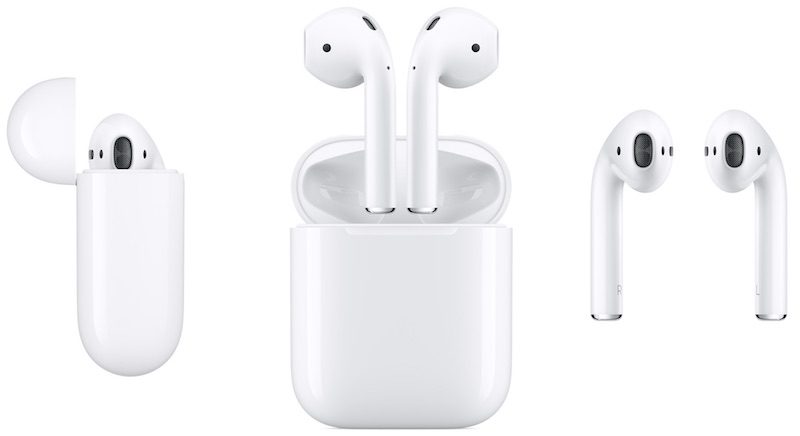 ​
On Tuesday, Apple finally began selling its
AirPods
through its website. The wireless headphones with Apple's own W1 chip were scheduled to ship late October, however the company felt all of the kinks weren't worked out.
Our favorite fruit company today updated its
iPhone Service Pricing page
to include lost or broken AirPods. The wireless headphones are given the standard one year Apple warranty, where all work will be covered for free.
Once the AirPods are out of warranty, Apple will charge $69 for service repairs. This price includes losing a single earbud, case, or any other service needed. However, if the batteries are beginning to lose capacity, Apple will only charge $49 out of warranty.
​
Yesterday, we saw a surprise seed of
iOS 10.2.1 to developers
, just two days after the public release of iOS 10.2. On Thursday, Apple made the minor update available for folks participating in the company's public beta testing program.
As mentioned before, iOS 10.2.1 is a minor update containing a series of bug fixes and stability improvements in the background. Since its developer release yesterday, folks who have updated to the new firmware have yet to find any outside changes.
Folks signed up with Apple's Beta Software Program can head over the
Settings > General > Software Update
to install iOS 10.2.1 beta 1. Of course, the device will need to have Apple's Beta Software Program configuration profile installed.
​
"Oh yeah! Mario time!" Those four magic words that we've been waiting to hear for so long, as Super Mario Run finally arrives in the App Store for iPhone and iPad. And what a wonderful treat it is, just hearing that high-pitched battle cry from the world's most famous plumber, the music and sound effects so familiar from beloved Super Mario games of the past, and the sheer joy of seeing all the other much loved denizens of Mario's world, including the ever panicking Toads, popping up in the game.
I don't want to give away too much of the opening sequence, which really is everything a Mario fan could have hoped for on their iPhone or iPad, but let's just say that Mario clearly hasn't learned one vital lesson from the past, which is that attending one of Princess Peach's parties is never a good idea! Just a few seconds in and we're already meeting a very familiar foe of Mario's…can you guess who it is??!
The game looks positively gorgeous and bright, the music is so good you'll want to leave it running just to hear it, and for fans of the Mario and Nintendo universe as a whole, the humour in the dialog is also pitched exactly right, in short it feels like you're playing a classic Mario game certainly in terms of the look and the storytelling.
The gameplay is, of course, very basic and very simple, being an endless runner, but it has been designed so that you have just the right amount of control and skill to prevent it from becoming boring or too frustrating. I still would have preferred it to be a side-scrolling platformer rather than an endless-runner, but this is certainly a great start, and hopefully Nintendo has something like that in the (green) pipeline, maybe even featuring Luigi, perhaps? We can but hope.
Click here to download (the first four levels are free, and after that there's a one-time fee of $9.99 to download the rest:
https://itunes.apple.com/us/app/super-mario-run/id1145275343?mt=8
Source:...